Chapter 01
What is Digital Signage? - The Basic Definition
The one-line definition of digital signage: Digital signage is a type of signage that displays information, messages, or any other content on a digital screen rather than on an acrylic or polycarbonate board.
Need us to explain a bit more?
Alright, let's help you understand the meaning of digital signage with this example.
Let's say you are driving down the road. You must be crossing at least half a dozen large billboards showing advertisements for the latest iPhone model in the market? If that signage is a digital screen instead of a PVC board, you are actually staring at digital signage.
Here's the difference between traditional signage and digital signage: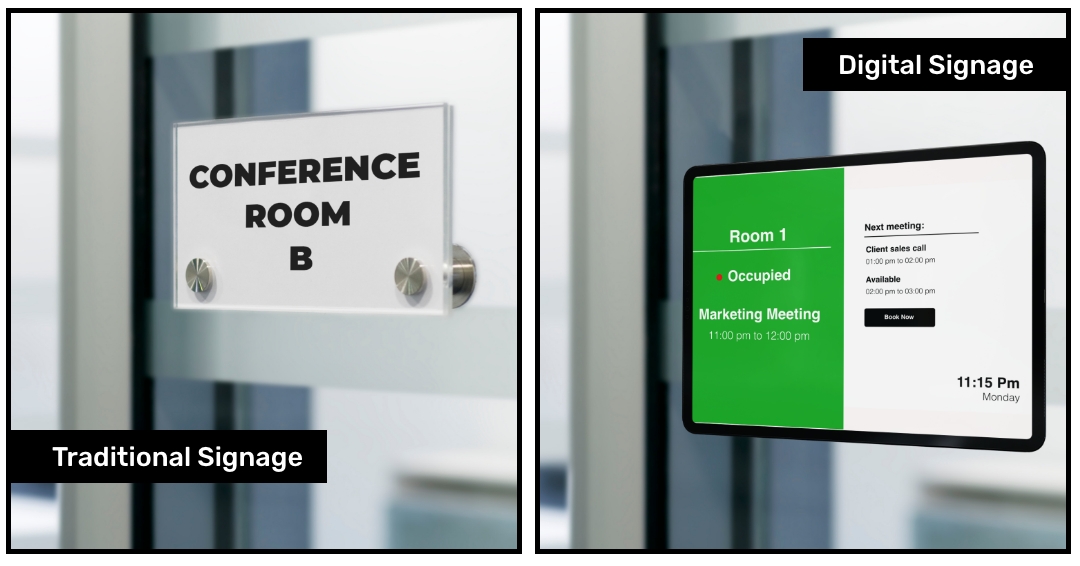 Digital signage is also known as electronic signage. Just like a television or a computer, it runs on electricity (and quite often with the help of the internet). Here, printing is not involved.
Usually, it is intended to send a specific message to a set of people. These people can be internal teams of an office, students of a school, or potential customers of a brand. Based on the end objective, you can decide your digital signage content.
Whether you hit a supermarket or visit the airport, these digital displays will be staring at you and sending you some messages. Today, almost every domain has embraced the potential of digital signage. These industries use different technologies like projection, LED, and LCD to display videos, images, or broadcast live content.
Screens have remarkably replaced paper marketing and minimized its prominence. Businesses are now focusing on a paperless approach to put out the word.
What is a Digital Signage System?
From the above definition, it is clear that digital signage is any screen that we use for commercial or public use to display some form of digital content at large.
But, these screens are not the sole component; there is a particular technology working at the backdrop. That is why we often refer to the entire technology as a 'digital signage system.'
There are three primary components of any digital signage system:
The digital signage hardware
The digital signage software or the digital signage CMS
The digital signage content
A. Digital Signage Hardware
The digital signage hardware consists of-
The Digital Display or the Screen: A signage screen is just like your mobile or TV. It is a screen that displays information. In fact, you can convert your televisions into digital signage. However, most people tend to use commercial-grade screens for electronic signage as they offer better life span and visual output.
The Digital Signage Player: Many find it hard to understand what a digital signage player is. Well, the digital signage player is nothing but a media player (often a small box that can be connected to your display). This hardware has its own software that drives functionalities like downloading the content from the CMS and rendering the content in various formats like video, image, HTML, etc.
Display Mounts: Mounts and cables are required to attach your displays to the wall or hang them from the ceiling.
B. Digital Signage Software
The brain of the digital signage system is the digital signage software. The software helps process the data and display it on the screen without much hassle.
Try Pickcel Free
It will be inappropriate to label the below points as 'components' of digital signage software. Instead, these are the 'attributes' of the software that you should know.
Content Management System (CMS): Every software program has a dashboard that allows users to manage their activities. The digital signage content management system is one such dashboard or command center. Based on the software you are using, the CMS serves functionalities like adding screens to the network, managing screens, managing media files (creatives), schedules, screen layouts, reports, and other admin functions.

Image: The Pickcel dashboard as it appears on the user's laptop

Cloud for Content Management: CMS can be served from an organization's private data center (on-premise digital signage) or the cloud. Cloud deployment helps organizations in easier management of server infrastructure, easy distribution of content across geography, and high scalability. If your digital signage software is hosted on the cloud, you can access your dashboard or CMS from anywhere in the world.

Related Article: Why do users prefer cloud-based digital signage software?
C. Digital Signage Content
Whatever you show on screen is the content. It can be a pre-designed advertising video or a live news broadcast. There can be hundreds of different content that you can show on electronic signage. For instance, images, social media posts, text messages, Youtube videos, website information, live traffic, sales dashboards, and RSS feeds. Many modern digital signage software offer content apps that deliver specific content on screen. For example, news apps, weather app, clock app, and currency app.
Explore 60+ Pickcel Apps
How does a digital signage system work?
If we consider the user as the starting point (Point A) of a chain and the digital signage displays as the endpoint (Point B), then the digital signage system works as follows:
What the user does:
The user logs into the digital signage software or the CMS dashboard.
They can pair their displays with the software. Pairing means the dashboard will now identify the screens and allow the user to publish content on those screens.
Next, the user has to add the content to the dashboard. They can upload media from their local storage or use apps to show specific content (provided your software has an app store). Some software like Pickcel also offers free graphic design applications which let users create their DIY digital signage content like advertisement posters, digital menu templates, animated videos, and more.
Once the content is ready, the user can create a screen layout. Screen layout helps the user accommodate the media (one or many) adequately within the screen space.
Finally, the user selects the destination screen for the content and publishes it.
What does the digital signage system do?
The instruction from the user (Point A) is carried out to the central server (it can be a cloud server or a private data center).
The content is then downloaded from the server by the digital signage media player of the target display.
The digital signage player has its own software that renders the content correctly on the screen (Point B).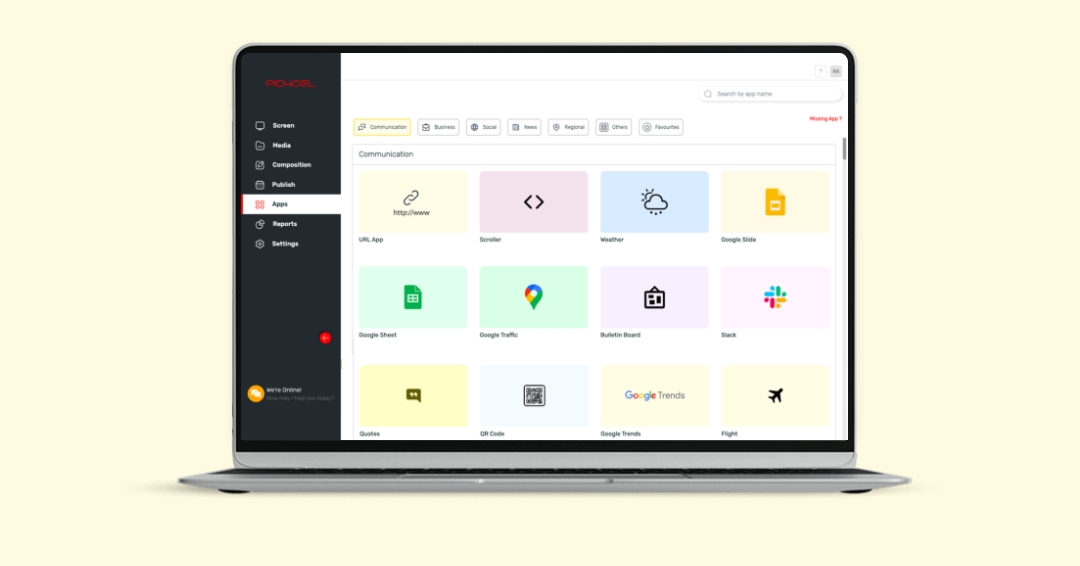 What are the Different Types of Digital Signage?
Each type of digital signage fulfills a specific demand of the user. Accordingly, the overall cost of digital signage ownership varies from business to business. Hence, you need to select the right digital signage system that can yield results.
Here are different types of digital signage based on their application:
DOOH Advertising Displays: DOOH or Digital Out-of-Home signs are essentially the billboards that rent advertising space. These don't necessarily have to be gigantic, but need to be placed outdoors.
Digital Standees: These are standalone LCD screens that you will often find at hotel lobbies and hospital receptions. They are used to display digital posters, announcements, welcome messages, and building maps.
Digital Menu Boards: Like traditional advertising billboards, static menu boards have also lost their appeal. The modern digital menu boards are dynamic; anytime an item is out-of-stock, or a new delicacy is added, it can instantly be updated on the menu. Consider it just like editing a paragraph on a word document.
Video Walls: To define simply, video walls are a number of screens joined to create a larger screen. It's a 'collage of displays.' Video walls give a high-resolution output and are often used to show media in an enlarged size.
Image Credits: photograph by Arielinson, distributed under a CC BY-SA 4.0 license
Interactive Displays: Interactive displays are screens where users can physically interact with the machine. For example, recently, McDonald's deployed self-ordering kiosks & digital menu boards to refine their customer experience. These self-ordering kiosks have touchscreens (like your smartphones). People can browse the food menu and place an order by directly interacting with the digital interface.
Electronic Shelf Labels: Shelf labels are the tiny signage attached on product shelves that gives customers information like price, discounts, or specifications. Digital or electronic shelf labels are thin panel-like screens that do the same thing. Being dynamic, they can better utilize the screen space by showing other details like expiry date & ingredients (in case of food or cosmetic products), warranty schemes (for gadgets), etc.
Immersive Displays: Immersive displays can come in any shape, but they are usually larger than other types of digital signage. From 3D content to simulation and VR, the immersive displays offer a natural viewing experience.

Digital display technology has also improved manifold over the past decade. Today, if you search the market, you will get a wide range of screen types. Based on the display technology, digital signage can be classified into the following types:
Commercial-grade LED Screens: These displays are made of 'pixels' that are essentially a series of connected LED lights. LED displays offer high brightness and are perfect for DOOH or outdoor signage.
Commercial-grade LCD screens: LCD screens are very efficient displays. The power consumption is significantly less than LED displays. However, they are not as physically flexible as LED screens, and therefore you cannot wrap them around curved surfaces.
Consumer-grade screens: These are basically the televisions in our homes. While Smart TVs can easily be converted to a digital signage, we would generally advise not to use them for commercial purposes as they are not built for continuous consumption and therefore will wear off quickly.
Chapter 02
What are the must-have features of digital signage software?
Always judge your digital signage software based on:
Features (of course!)
Hardware-compatibility
User experience
Now let's see what the features that you should look for in your digital signage software are:
Supporting multimedia: Holistically, your digital signage software should be capable of playing images, videos, playlist, data from third-party application, social media, HTML5, web feeds, live news, RSS feeds, JSON, streaming, Live TV, and more. Also ensure that your software can play all these variety of content formats simultaneously without any lag or friction.

Video caption: A screen recording shows the Pickcel software rendering multimedia content

Network monitoring: The digital signage solution should provide visibility of the entire digital signage network, including:
real-time tracking of network status of the displays,
device health monitoring in terms of device memory/CPU utilization,
Reports on content sync status, download failures.
Automatic content rendering: Let's assume that you want to display an ad poster on two screens— one is a horizontal screen, and the other is vertical. You shouldn't have to resize your media; your software should do it for you.
Robust security: Every time you upload your content or publish it on a screen, there is data transfer. Your digital signage software should provide built-in security features such as encryption, role-based security, content approval, appropriate access control mechanism etc.
Content scheduling: You are using technology to reduce your work burden. Content scheduling means the user can select a specific time and date so that their content gets automatically published on-screen at the specified schedule.
In-built content tools: A significant component of digital signage is the content. Many digital signage software will offer their users a whole host of content resources, whether it is in the form of a digital signage app store or free image & video repositories.
Interactivity: Digital signs are becoming more and more interactive through touch-enabled or touchless screens, mobile apps, Wifi or Bluetooth. So, if you are planning to deploy kiosks, or interactive screens for your business, it is important to look for a software that supports interactivity.
Third-party integration: Digital signage solutions are widely used in public places for dissemination of information such as airports, railway stations, and bus-stops. These screens show live vehicle status, schedules, traffic situations, live weather, and more. In such cases, look for a software vendor that supports integrations and customizations of the software.
Multi-user access: Many businesses have different offices or spaces managed by different users. So what then? Do you need to get separate software for each office? Absolutely not. That is why multi-user login is essential.
Easy to scale: Your digital signage network can expand as your business grows. That is why it is important to have a digital signage software that can handle many screens both in terms of back-end software capability and a good interface to manage large numbers of displays, media files, and network reporting.
Chapter 03
Where Can You Use Digital Signage software?
It is essential to understand what is digital signage used for. Only then will you be able to make the most of it.
Today, it is used in the majority of the sectors. It can benefit different industries to increase their traffic and attract customers by making attractive videos and image content.
For instance, retail outlets can get more sales; banking institutions can reduce waiting times with interactive self-service tools; restaurants can change their menu digitally, and so much more.
Here are some industries where digital signage is commonly used:
Retail Outlets
Electronic signs are becoming indispensable in retail as a tool to advertise products and play in-store entertainment. There has been a sudden boom in experiential digital signage technology.
Top retail brands worldwide have used innovative AI- and AR-driven signage displays to offer their customers virtual try-outs. Advertising on high-resolution screens profoundly impacts consumer psychology.
Related Article: How Amazon solved their product marketing challenge with digital signage
Airports & Transportation Hubs
If you have ever been to the airport or railway stations, you must have seen the screens that display live vehicle status? These are called Passenger Information Display Systems (PIDS). These are nothing but electronic signage. Airports, railway stations & bus stops use these screens to inform passengers about vehicle schedules, ETA, live traffic map of a city, and helpline numbers.
Post the Coronavirus pandemic, electronic signs have found other applications as self-service kiosks and sensor-based temperature screening displays.
Check this Out: How can digital signage help the transportation sector
Healthcare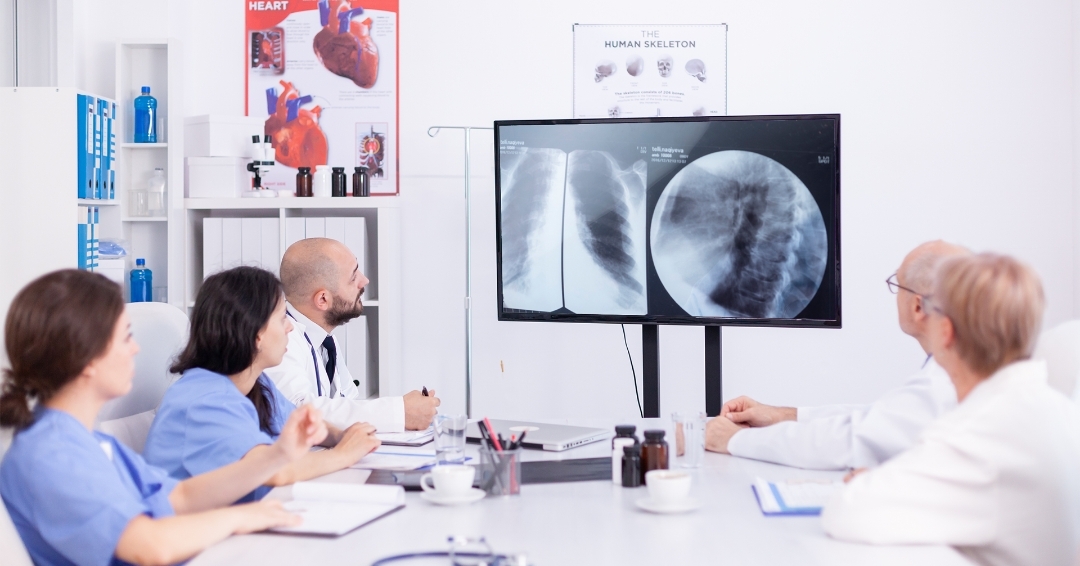 Healthcare is one of the most recent industries to join the digital signage fan club. Hospitals looking for ways to maximize their returns are focusing on making the patient experience as seamless as possible.
Besides, healthcare marketing through digital signage has proven its merit in numerous cases. More importantly, digital signage has turned into a medium to facilitate Telemedicine and teleconsultations.
Related Article: Benefits of digital signage that make it an asset for the healthcare industry
Education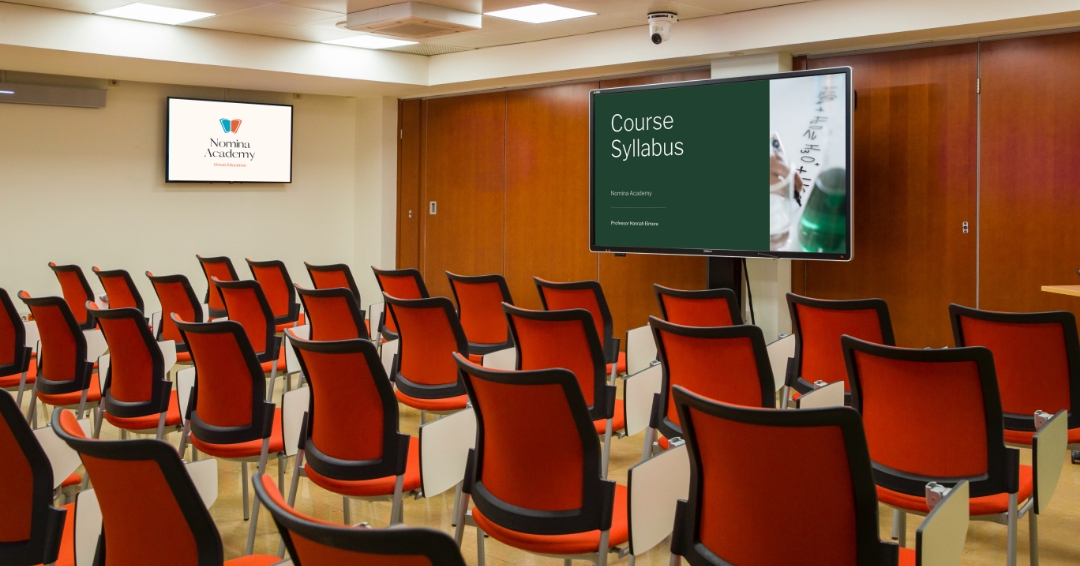 Besides healthcare, the education sector has also realized the importance of electronic displays. Schools, colleges, and universities now use screens for better information dissemination.
Also, educators can make their lectures and classes more interactive with digital signage. Learning can be improved at unimaginable levels, from explaining 3D structures to playing audio-visual content.
Related Article: Ways in which digital signage can be used in schools & colleges
Restaurants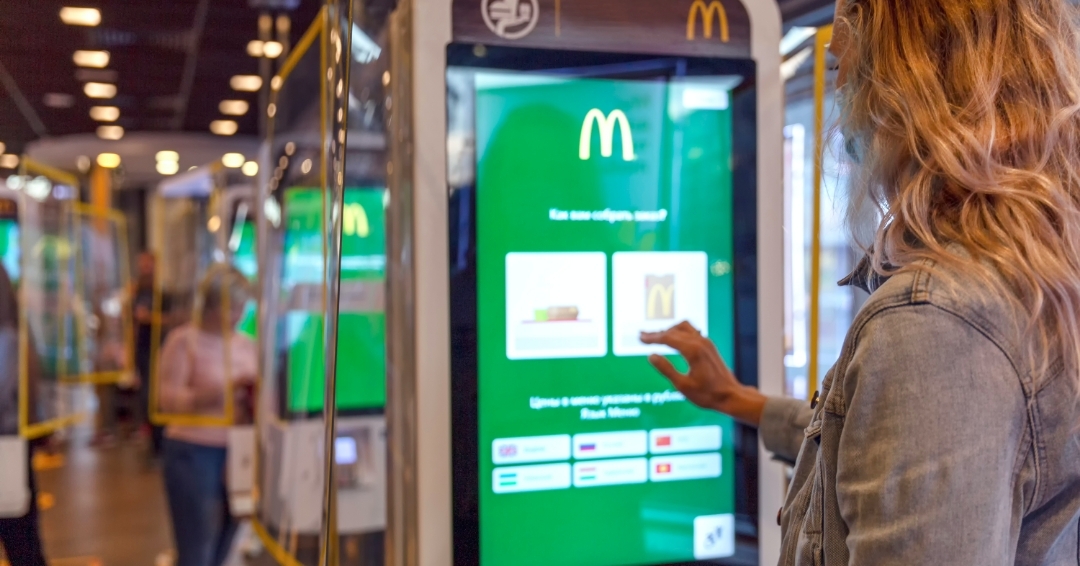 Circling back to another industry that can sell products with digital signage, the restaurants, bars, and QSRs are rapidly adopting this technology. The primary use case in this vertical is the digital menu board. Besides that, electronic displays are used to show order status and for general entertainment.
Check this Out: Learn how Pickcel can help in managing customer & order queues
What Are the Benefits of Digital Signage?
Digital signage is a high ROI technology. If you are confused about opting for digital signage, here are some benefits that will help you decide.
#1 Drives Higher Engagement with Your Audience
When shoppers are engaged in your products or services, they will likely turn into loyal customers. That's the reason most businesses ensure they provide their shoppers with all the required information to feel comfortable.
Have you ever been to a store and circled looking for the sales guy? Didn't you always wish you had the information about the product without asking for it?
Customers want to be self-reliant. With electronic signage in place, you can show digital product catalogs, product availability, prices, discounts, membership plans, and other relevant details. An interactive display can let the customer browse their favorite products and make a conscious decision.
These are the modern ways of building engagement with your customers.
#2 Expand Your Territory
Globalization has made businesses more flexible. You could be sitting at a beach house in California and managing your clothing stores in China, the UK, and Australia.
Imagine if there was no digital display technology. You would have to hire separate designers, separate printing & advertising teams for every different location! That is anything but feasible.
Digital signage has a massive benefit for the branding process as you can get globally recognized with the help of digital signage. For instance, if you have different branches at several places, the displays will ensure consistency in the system.
The cost and time of publishing content are also significantly lower.
#3 Enjoy Wider Reach and Engagement
The benefits and significance of digital signage are not just limited to in-store facilities. The digital signage display will help you attract a more extensive audience and viewers. For starters, digital displays are high resolution and can be viewed clearly from a distance. They also catch attention faster than traditional signboards.
Related Article: Tips to make your outdoor digital signage stand out
#4 Easy and Convenient to Handle
Customers' requirements and preferences change regularly, so you can never stick to a single plan. One of the key benefits of using digital signage is using the displays according to your convenience.
For instance, if you own a restaurant or hotel, you need to change the pricing every now and then. The traditional menu board method does not allow you to make rea- time changes which can decrease the efficiency.
However, digital signage makes it quick & simple to update any content. Software like Pickcel also allows scheduling content for auto-publish at a specific time.
#5 Leave a Lasting Impression
It is human nature that our memory tends to retain video & image elements more than textual ones. It is vital to give your customer something to provoke their purchase intention.
Digital signage helps in spreading the word without any manual efforts. When your customer sees an ad campaign on digital billboards, there is a higher chance they will recall it while purchasing a similar product.
The combination of digital signage content, graphics, and display movement makes electronic signage ideal for marketing and promotions.
#6 Make Waiting in Queue Comfortable
Have you ever noticed customers waiting in a store? Do they look happy?
Absolutely not!
That's because waiting time is unproductive, and it causes frustration. But did you know that the same customers will happily wait for a longer time if they were looking at, let's say, the latest Taylor Swift music video on the store displays?
Why?
Because that gives them a reason to wait, they enjoy their time. Maybe some of your customers are watching it for the first time. Or, they never really get the time to tune into it.
Long queues can disrupt the in-store experience of your customers. Don't let this mistake take away a chunk of profit from you. With digital signage, you can ensure lower wait times for your customers.
Besides improving the retail experience, digital signage can also help tackle patient queues in hospitals and clinics.
#7 Powerful Analytics to Make Right Decisions
You can optimize all the benefits as mentioned above with the help of analytics systems. Intelligent digital signage systems can provide all the relevant insights regarding customers' engagement.
You can check which products/services are most searched for, the sales of the previous month, and provide you insights regarding improvement.
Integrating your screen software with Business Intelligence (BI) tools can give you powerful wisdom.
Chapter 04
The need for a digital signage strategy
Before you deploy a digital signage network, it is essential to have a strategy in place. Even after being aware of the technology, you may still get confused about what type of digital signage software and hardware you should opt for. To find the most appropriate solution, you need to answer these three questions:
What will I use my digital signage for?
Who is the target audience?
What is my budget?
Now, let's see the factors to consider while implementing digital signage.
1) Business Type and Business Goals
Any business from a small retail outlet to a big enterprise can adopt a digital signage system for engaging their audience. But, depending on the industry and the objective, the business needs will vary.
There are primarily three reasons why businesses use digital signage:
Marketing communication (Advertising),
Information dissemination
Internal communication (employee engagement & information).
You should identify the goal you want to achieve, which ideally should fall into one of the above categories, and accordingly, devise the strategy and plan. This, in turn, will influence the other factors mentioned below.
2) Audience
The audience is the key here. You should identify your audience and accordingly plan for the signage solution. Depending on your business type and purpose, your audience can be your:
Customers
Employees
The general public
Also, it is important to understand the demography of your audience, which will drive the digital signage content strategy.
3) Investment & ROI
Your strategy should be to clearly chalk out both tangible and intangible benefits. It has to be further translated in terms of revenue added, cost-saving, brand building, or generating awareness.
This will drive the decision to invest in technology and content.
4) Technology
This is the Big-ticket, as always! The more you invest in your digital display technology, the more returns you get. In the upfront, the hardware cost will be significantly higher than that of the software (since most software nowadays have a subscription-based pricing model).
Some important considerations while choosing the display are:
Display size,
Display type (LCD or LED)
Luminosity
Resolution
Enclosure (for weatherproofing like IP65 standards)
Warranty
As for the signage player, there are different varieties of digital signage players available on the market, and you should decide depending on your:
Type of content: Is it primarily web-based content? Does your content have fast-moving graphics or animations?
Network connectivity: Your device should support the available connectivity on your premise, whether your device supports LAN or Wifi connectivity. If Wifi, what is the frequency that the device supports (2.4 GHz or 5 GHz).
Supported resolution: If you would like to run 4K or 8K content, your hardware cost will be higher than the HD or full HD displays.
Daily play duration: This is crucial if you want to run your signage display 24x7. Any device may not support 24x7, and it may require specialized hardware with a good heat sink, reliable motherboard, and CPU.
Vendor support: One critical consideration is ensuring that your signage player is compatible with the software.
Some popular digital signage player OS versions are Android, Linux, Windows, and Chrome OS (Chromebit & Chromebox).
Android-based signage players are gaining popularity amongst customers. If you are looking for affordable players, then a few good and reliable options can be raspberry pi, Amazon fire TV stick, or Android-based TV players.
There are other options where the digital signage players are embedded within the displays like LG commercial signage displays with webOS based signage players, Samsung Tizen signage displays with an embedded player, or Android-based displays like Phillips, Sony, TCL, and Viewsonic.
What are the must-have features of digital signage software?
Always judge your digital signage software based on:
Features (of course!)
Hardware-compatibility
User experience
Now let's see what the features that you should look for in your digital signage software are:
Content scheduling: You are using technology to reduce your work burden. Content scheduling means the user can select a specific time and date so that their content gets automatically published on-screen at the specified schedule.
Automatic content rendering: Let's assume that you want to display an ad poster on two screens- one is a horizontal screen, and the other is vertical. You shouldn't have to resize your media; your software should do it for you.
Robust security: Every time you upload your content or publish it on a screen, there is data transfer. That is why make sure your software has access control and a firewall.
Multi-user access: Many businesses have different offices or spaces managed by different users. So what then? Do you need to get separate software for each office? Absolutely not. That is why multi-user login is essential.
Chapter 05
Why Pickcel Digital Signage?
When you go out fishing for a suitable digital signage solution for your business, you will see that all the available brands fall into any one of the following three brackets:
The Pricey Brands: These are the vendors who would charge you a fortune. Their selling proposition is that they are popular and well-established brands. Often the extra cost is because of the brand name. These brands usually sell the same products but in shiny wrapping paper.

Price Range: $20/screen/month - $99/screen/month (or more!)

The 'Not at all Pricey' Brands: Polar opposite to the overpriced brands are the vendors who would promise you that they offer the most pocket-friendly solutions. While that can be true to a certain extent, they are also very risky to invest in. Why? Because these brands are generally new in the market and their software may not be as powerful and well-developed as the entrenched brands.

Price Range: $5/screen/month - $9/screen/month

The Objective Brands: These brands are the ones you should be looking out for. Their websites may not have gimmicks like 'most affordable' and 'most disruptive in the market, but they will offer you the best of both worlds. The price is generally reasonable, and all the essential features are available.

Price Range: $15/screen/month - $18/screen/month
At Pickcel, we try to be the objective brands. That's because we understand that building powerful software comes with a bare minimum cost. At the same time, we love to be customer-centric, and therefore the 'brand name' price is permanently excluded from our packages.
With that said, here are the benefits that Pickcel offers:
Lifetime Software Updates for free
Industry-specific solutions like Digital Menu Boards, Digital Product Catalog, Car Dealership application, Social Wall, and more (all free with the CMS license).
Consultation & guidance
User-training
12x5 on-call and email chat support
Integration & Customizations
Start Free 14-day trial
Frequently-Asked Questions
Digital display technology uses screens to play multimedia content like advertisements, product promotions, entertainment videos, live feeds, etc. This is how digital display technology works: you have the soft-copy of your content, you upload it to your digital signage software, and the software publishes it on your electronic signage.
The digital signage content management system is essentially the software where users can add their content and push the content to the screens. To understand CMS better, read this.
Imagine your digital signage as a blank page. What can you show on that blank page? Anything to everything. Digital signage can be used to run commercials, live TV, news feeds, digital menus, text, notices, GIFs, images of people, places & things. It can also be used to show real-time interactive content like flight schedules, stock prices, or match scores.
Digital Signage player is the hardware that drives the content on the display. Typically a signage player will have CPU, local storage (Hard Disk, SD Card or eMMC), memory (RAM), WiFi/LAN, USB and HDMI ports.
Digital signage players come with a variety of operating systems including Android, Windows, Raspberry Pi OS, LG WebOS, etc. Among these, android digital signage players are very commonly used. There are smart digital signage displays which come with embedded signage player or sometimes called System-on-Chip (SoC) e.g. LG web OS, Samsung Tizen. Or these can come in the form of external devices that you have to connect to your displays (Example: Amazon Fire TV Stick ).
Check all Pickcel-supported hardware and the feature compatibility matrix here.
Electronic signs not only help you with advertisements, they can also help to boost productivity and internal communication within a workplace. For example, digital signage appslike Google Sheets an help to display a particular worksheet on screens so that all the employees within a large team can refer to it at the same time. Or, live RSS feeds can be presented to keep employees updated on their subjects of interest. From publishing digital notices to introducing team members, digital signage systems find endless applications in today's modern workplaces.
Digital signage gives high returns on investment (ROI). Most businesses like retails, corporates, andrestaurants already have so many digital displays in place. However, they often do not optimally utilize those screens— they would usually use those as TVs, playing some generic content like music videos or sports matches. But when you use powerful software, the effectiveness increases 10-folds. There is much better customer engagement and customer retention. Digital signage has a direct positive effect on sales.
Digital signage has a wide range of applications, making it suitable for use in hotels, restaurants, retail shops, corporate offices, gyms, spas & parlors, airports, subways, & railway stations. It finds excellent purpose in hospitals, clinics, schools, and colleges. They are also a fantastic asset for event companies and advertising offices. Banks and manufacturing plants are other industries that can benefit from digital signage. Nowadays, even churches & places of worship deploy screens to communicate with their followers.
Digital signage has now become an important part of communication tool for organizations to deliver informational or marketing content. There are many factors why this technology is becoming ubiquitous. Firstly, digital signage is attention grabbing, contextual, and dynamic. As a result, it increases recall and retention rates, impacts on impulse buying, and adds to the customer experience. Secondly, the technology is cost effective compared to conventional signage.
Digital signage cost would include the cost of all four components of signage i.e. screen, signage player, CMS, and cloud (optional). Over all cost would vary depending on the types of each component. Check here get an idea of the cost of CMS and cloud.
Digital signage is a combination of multiple components which includes hardware, software and connectivity. A Digital signage system typically would include the following:
Digital screen (LCD, LED or Large format displays) for displaying visuals
Digital signage player hardware & software for interacting with CMS, storing the content and rendering it on the screen.
Content Management System (CMS software) for multimedia storage, content design and content scheduling on the digital signage display
Cloud Infrastructure for CMS hosting and display management (Optional)