Digital signage, a pivotal tool for contemporary business communication, offers myriad advantages and insights into operations while significantly enhancing internal and external communications. However, ensuring the smooth functioning of signage technology through meticulous maintenance is equally crucial. Let us highlight some insights to ensure that the deployed technology operates at its peak, effectively engaging your audience.
Components of signage network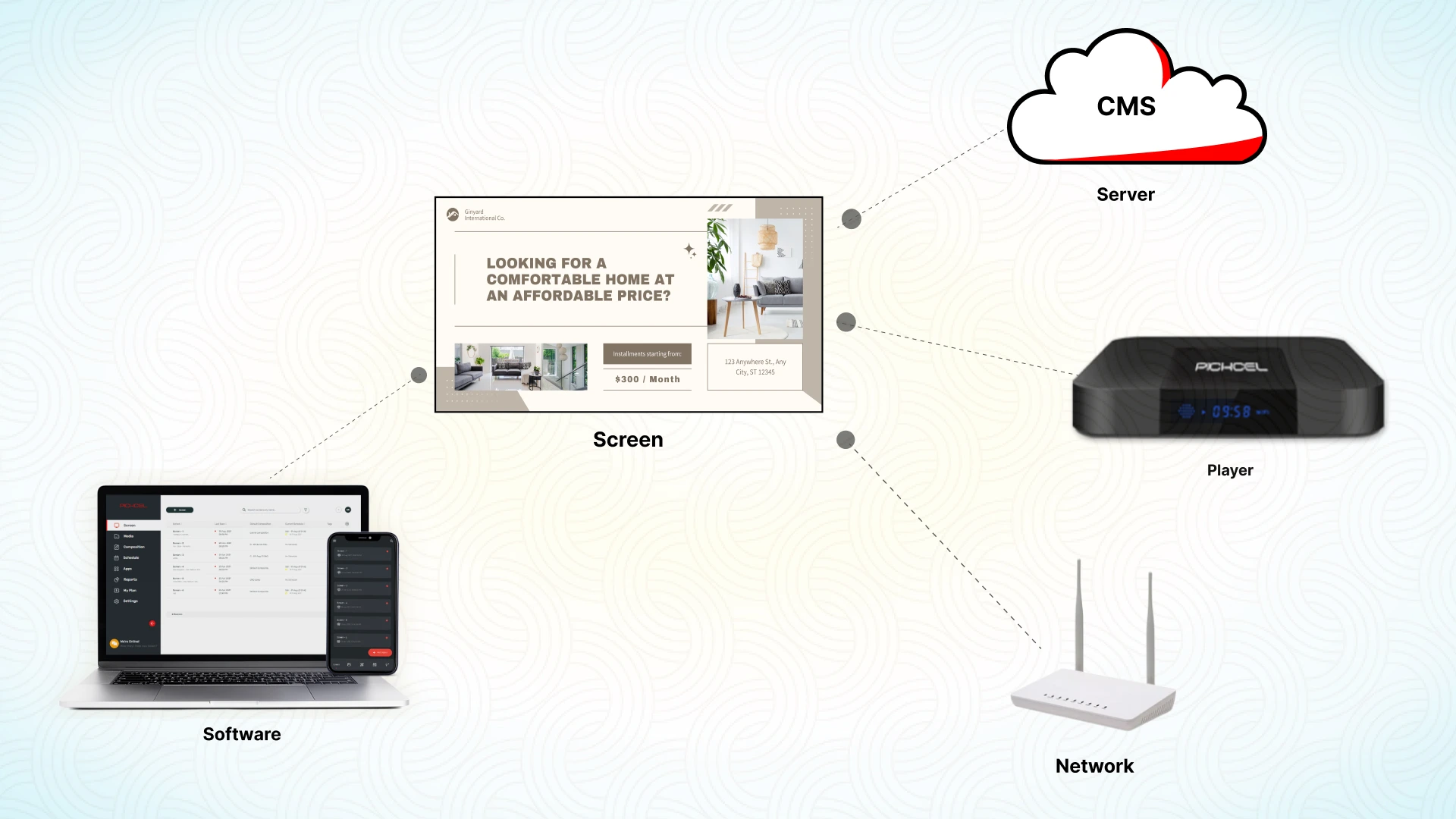 Here are the 5 essentials that makeup a signage infrastructure:
Software: Choose software that is user-friendly, compatible with various hardware and file formats, and receives active support and regular updates.
Screen: Ensure screens are visible, durable, and energy-efficient, depending on their intended usage environment.
Player: Select players based on their performance, reliability, and compatibility with your software and screen technology.
Network: Connects all elements of your signage network. It should be stable, secure, and have a bandwidth strength to deliver content smoothly.
Server: The server or cloud infrastructure stores and manages your content. Ensure it is reliable and scalable to meet your business needs.
Smart design for easy maintenance
When designing a digital signage network, the initial selection of components is critical. A smart design encompasses software selection, prioritizing user-friendly options with robust security and support. Additionally, network stability, player performance, and screen durability significantly influence maintenance ease and system longevity.
Success definitions of a well-maintained signage network
An efficient network helps fulfill diverse business objectives and criteria, including:
Enhanced viewer engagement: The primary goal is to effectively captivate the audience by presenting compelling content and interactive features.
High-quality content delivery: Consistently delivering content of the highest quality standards within predefined timeframes is a fundamental success factor.
Maintain network uptime: Minimizing network downtime is crucial to maintaining the operational and reliable status of the signage.
Optimizing maintenance costs: The network aims to achieve cost-efficiency in its maintenance processes, ensuring that resources are effectively utilized.
Areas of operations to maintain your digital signage
Here are a few vital components to keep your signage network running
1. Hardware maintenance
Screen: Ensuring optimal visibility, color accuracy, and functionality.
Player: Select media players that function smoothly and are capable of handling the content.
Physical security: Protecting hardware components from theft, vandalism, and environmental factors.
Pro Tips
Setup automation of media player management -

Automate clearance of storage on certain threshold
Automate player on-time and off time
Auto recovery and self healing of player app
2. Software maintenance
Basic tips: Ensure that your software is bug-free and up-to-date. In case of cloud /SAAS solution make sure your vendor holds a proper security certification. In the case of on-premise implementation, your internal team must be trained adequately to upkeep the server OS.
User access: Authorized access along with two-factor authentication can help safeguard against hacking or phishing attempts.
Updates: Regularly updating software to patch vulnerabilities and enhance performance.
Player software: Make settings and configurations of signage player software standardized across the network.Ensure the player operating system adheres to the organizational policies.
Pro Tips
Pickcel helps conduct periodic assessments of your digital signage infrastructure by using simple visual cues. The three dots on the screen serve as a reference for system status:
First dot: Monitor screen connectivity through a simple color-coded system. A red indicator signals that the system is not connected to the internet, yellow signifies it is in the process of connecting, while green denotes a stable internet connection.
Second dot: Indicates content download status and follows the same signaling guide as the internet status
Third dot: Displays the current date and time, ensuring synchronization with real-time and usually has a default red indicator unless changed manually.
2. Content management
Relevance: Ensuring that the displayed content is relevant and timely.
Quality: Regular checks to ensure high-quality audio and visuals.
Compliance: Ensuring content adheres to legal and regulatory standards.
Pro Tips
Monitor all screens have content assigned
Random audit by taking live screenshot of content from various screens
3. Network checks
Connectivity: Ensuring stable and robust connectivity across the network.
Security: Implementing and managing security protocols to safeguard data and prevent unauthorized access.
Traffic management: Managing data traffic efficiently to prevent bottlenecks and ensure smooth content delivery.
4. Monitoring and reporting
Performance monitoring: Continuously monitoring the network's performance to identify and address issues promptly.
Reporting: Creating regular reports on network performance, user engagement, and other relevant metrics.
Analysis: Analyzing reports to derive insights and identify areas for improvement.
Pro Tips
Monitor whether all screens have content assigned
Monitor media reports and analyze. Pickcel media reports are the best way to get a complete idea.
Monitor uptime reports and prepare monthly summary. Pickcel uptime reports help you assess these.
Explore the best of signage technology with Pickcel