Trusted by 5500+ businesses globally
SOC2 Certification: Our Badge of Trust
The System and Organization Controls 2 (SOC2) certification is not just a badge—it's a testament to our dedication towards ensuring rigorous security standards. By achieving this certification, we have demonstrated our commitment to:
Security: Protecting against unauthorized access, both physical and digital.
Availability: Ensuring our systems are operational and available as committed or agreed upon.
Processing Integrity: Authenticating that the processing of transactions is complete, accurate, timely, and authorized.
Privacy: Safeguarding the collection, use, retention, disclosure, and disposal of personal information in alignment with our privacy notice.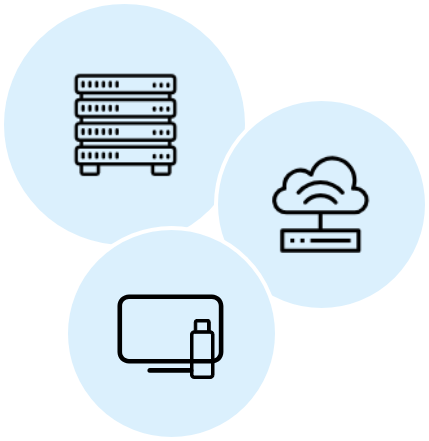 On-premise Digital Signage: The Ultimate Control
For organizations keen on keeping their data in-house, our on-premise digital signage solution is the perfect fit. Host Pickcel's solutions within your secure data center, ensuring that your data never leaves its confines. Moreover, this allows seamless and secure integrations with your internal data sources, offering tailored solutions without compromising security.
Diverse Digital Signage Player Security
Pickcel supports a wide range of digital signage players, from Android and iOS to Windows, Unix, and Chrome. This diversity empowers organizations to select players that align with their internal security policies. Beyond the choice of platform, organizations can also implement granular security policies on the devices, ensuring a holistic protection framework.
Application Safeguards
At Pickcel Digital Signage, our SaaS platform is fortified with top-notch client-side safety features:
Pickcel's Security Benefits for Enterprises
Security isn't just a measure at Pickcel—it's our culture. We're dedicated to exceeding enterprise expectations in reliability and trustworthiness. In our digital age, we're the guardians of your communications, championing secure digital signage.
Trust & Credibility
Our SOC2 certification attests to our dedication to data protection, promoting seamless collaborations.
Regulatory Compliance
Our security measures align with industry standards, making Pickcel ideal for regulation-bound businesses.
Data Protection
Advanced encryption, audits, and threat detection keep client data safe.
Expert Security Team
Our experts stay updated on threats, refining our protocols accordingly.
Access Control
Strict controls and multi-factor authentication restrict data access to authorized personnel.
Continuous Monitoring
We proactively identify and address vulnerabilities, ensuring consistent service.
Design. Publish. Scale.
From start to finish― a single digital signage software to make your screens smart.