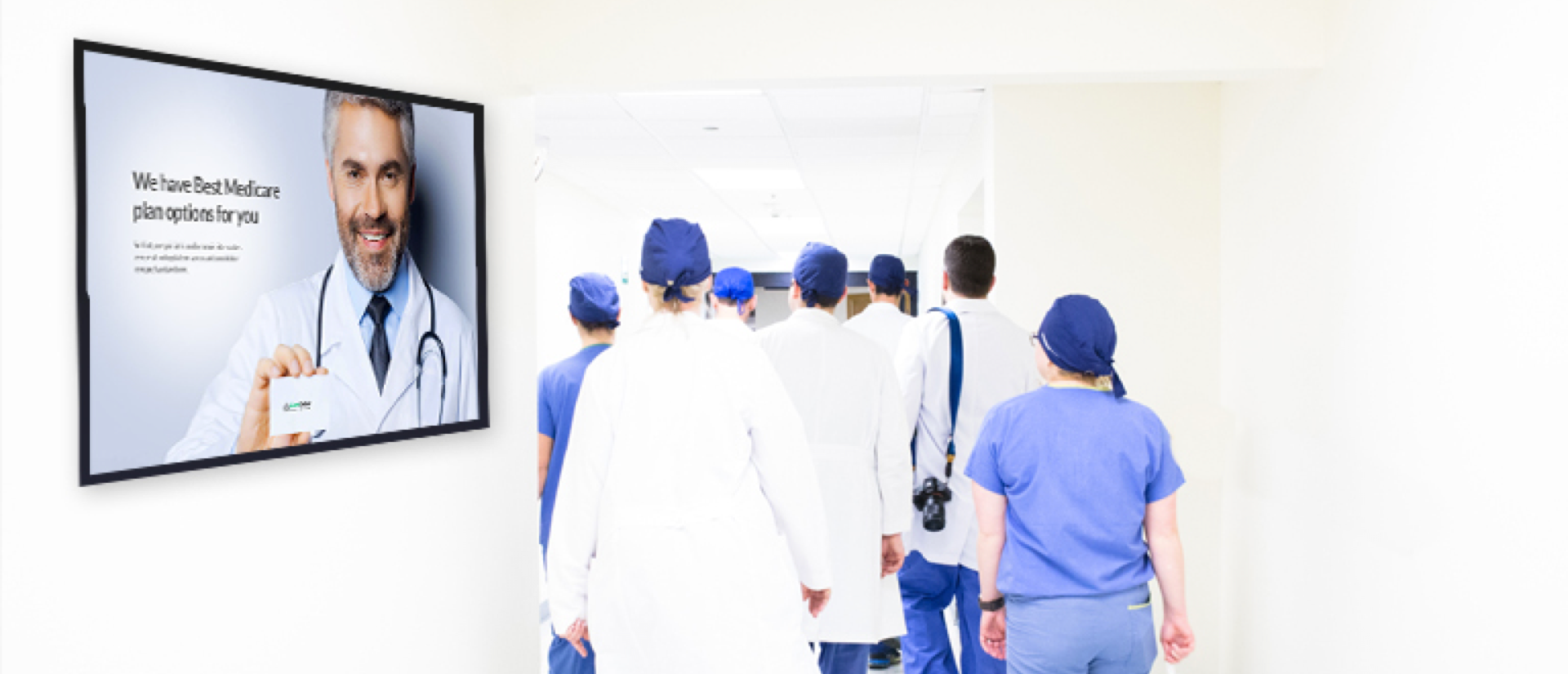 6 Benefits of Digital Signage in Healthcare
Digital signage is a powerful visual communication tool for businesses to engage their audience. With bright screens and colorful dynamic content, digital signages attract the viewer's attention quicker and easier than any other form of advertising media.
While other industries are adopting digital signage to engage their in-premise audience, healthcare is also fast catching up to reap the power of digital signage. It has become an essential part of technology for larger hospitals and multi-specialty clinics. Considering the bustling situation in larger hospitals where patients, visitors, nurses, doctors, support staff are involved, digital signage can bring in a very effective communication mechanism.
Smaller clinics and medical centers are also finding this piece of technology very useful to keep their patients engaged, build a brand and provide healthcare-related tips/information.
Here are 6 important benefits which would drive hospitals, multi-specialty clinics, and other medical centers for adopting digital signage, if they have not implemented yet
Showcase your infrastructure, facilities, and specialty
With digital signage, it is very easy to market your offerings. This provides very good information to patients and visitors about the facilities and specialty services. It can be like non-invasive surgery, transplants, cancer care, spine surgery, etc.
One of the key parameters which bring in patients to a particular hospital is the Doctors. It has become a must for most of the hospitals to showcase doctor's information along with their specialty, experience, qualifications, and achievements.
Enhance patient experience
Digital signage also contributes towards the ambiance of the infrastructure. Beautiful and pleasant visuals can have a very soothing effect on visitors and patients. Displays serving entertainment contents in waiting areas can also boost visitor's experience.
Queue information on digital signage displays along with engaging content also helps in reducing the perceived wait time, thus contributing towards a positive experience.
Branding
Digital signage offers a perfect solution for in-premise branding. Digital posters can be launched on big LED displays in no time. Hospitals can showcase their contributions towards communities, charity works, specialization, social media contents, special drives, events organised, rewards and recognitions to increase their brand awareness.
Marketing campaigns
the Best place to start a marketing campaign is in-premise, where patients are already in. Discounts and offers on regular health check-ups, cosmetic surgeries, old age-related screening or the introduction of any pre-emptive checks can be posted on the display screen, which will attract many potential eyeballs.
Medical information and health tips
Digital signage can serve a very effective tool for informing patients and in-premise visitors about health-related information and tips to avoid certain medical complications or disease. Dynamic and engaging content on precautions to be taken, health advice or vaccination can create a very good impact and awareness among the patients.
Generate revenue
Some of the hospitals and chains of clinics have leveraged digital signage to generate substantial ad revenue by allowing advertisements on the digital displays installed in waiting areas. Pharma companies, medical equipment manufacturers, health drinks, fitness centers, and hyperlocal service providers are among the most interested advertisers who would like to reach out to these audiences.
Do check out our website to get started with digital signage today.