What is a digital product catalogue?
A product catalogue is an indispensable marketing asset, especially for retail businesses. It is the first step towards converting a customer. Having your product mix and the product price readily available is vital, but the expense of producing a paper publication is rising by the time.
This is where the revolutionary digital catalogues of today come in. Digital catalogues address both issues. They don't require hefty printing and distribution costs, and they're handier because customers can access them from anywhere and at any time using their phones, tablets, or PCs.
But, what exactly is a digital catalogue, and what makes it so enticing?
A digital catalogue is nothing but a soft copy of the traditional printed catalogue shown on high-resolution screens to maximize the visual impact.
For example, this is how a traditional product catalogue looks like:
And, this is how a digital catalogue appears on an HD screen:
The best advantage of a digital catalogue is that the products can be presented as a blend of graphical visuals, such as product photographs, product creation videos, and textual data such as product price & descriptions.
How to create a digital product catalogue for your business?
Nowadays, retail business owners & entrepreneurs want to be self-sufficient, and technology is making that possible. One way to make a digital product catalogue is using DIY graphic design tools like Canva. While these applications offer an exhaustive platter of templates, only a handful are available for free.
Here, at Pickcel, we have designed an even better solution for those who want to create their own digital catalogue: the Pickcel Product Catalogue app.
The Pickcel digital catalogue app is in-built and comes free with the Pickcel digital signage software. The application offers a cloud platform wherefrom users can create a digital catalogue online and launch it directly on their store's digital signage.
Looking to grow your business with digital signage solutions? Try Pickcel!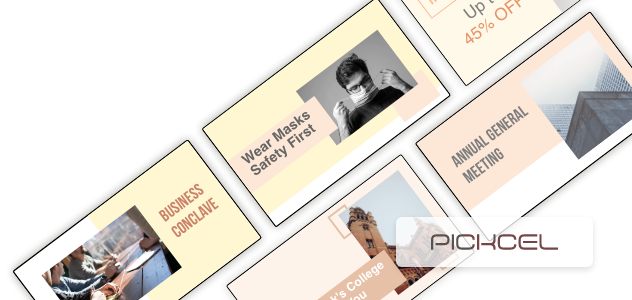 Steps to make digital product catalogs with the Pickcel Product Catalog app
The Pickcel app has a simple user-interface that allows anyone with zero coding and zero design experience to create electronic catalogues that match the professional grade.
The following are the steps to create a digital product catalogue using the Pickcel app:
1. Login to Pickcel dashboard
Go to https://console.pickcel.com/#/ and login to your Pickcel dashboard. New users have to first register with Pickcel using the 'Sign up' option. All first time users are entitled to a 14-day free trial to test the digital signage software features.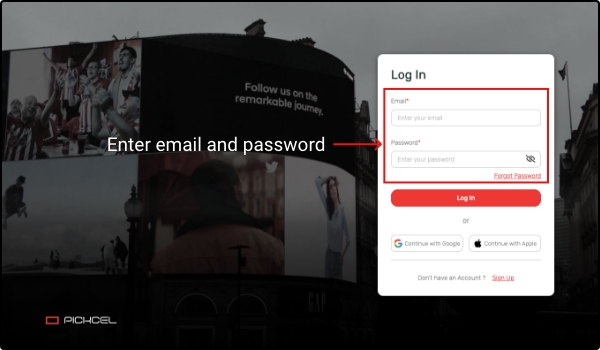 2. Upload your product images on the Pickcel media library
The first step to creating a digital product catalogue is to have the images of your products ready for use. You can upload everything from product images to videos from your local storage. The Pickcel application supports all graphic file formats like JPEG, PNG, GIF, MP4, MKV, and AVI. Your product images & videos will be stored in the media module of the application.
Users can also create their own media or edit their product images using the Pickcel integrated design apps like Canva or source royalty-free images from Unsplash, Pixabay & Pexel.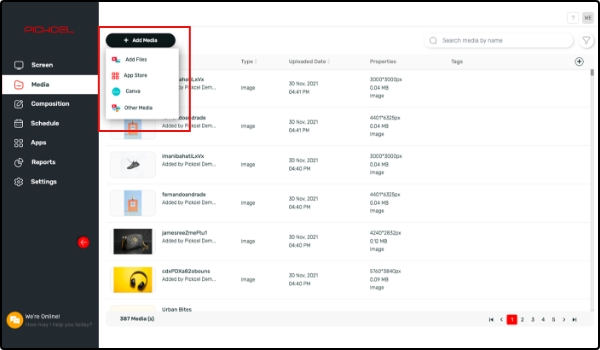 3. Choose a template
Once the product images are added in the media module, users can go to the Apps module and select the product catalogue app.
After you open the app, you will find a variety of themes, ranging from full-screen media-heavy templates to traditional image and product description templates with high resolution. When it comes to developing a digital product catalogue, picking the correct template for your business and target audience is crucial.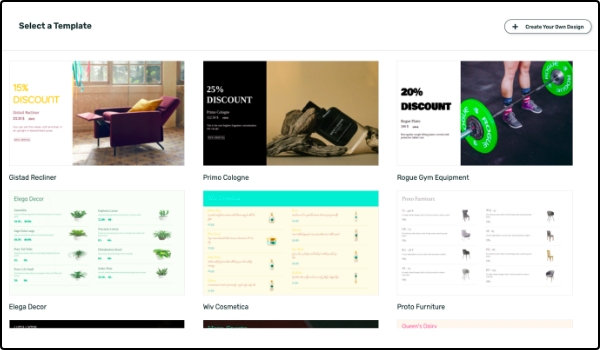 4. Add your products
The Pickcel product catalogue app is ready-made for users. You can simply input their product name, product description, item price and discount (if any).
If you wish to organise your products in a more orderly manner, you can create categories for them. For example, if you are selling watches, you can segregate your products according to collection ranges or gifting purposes.
Now that your product images are available in the Pickcel media library, you can add them to your digital product catalogue. You can also crop the product images to your taste.
Note: Remember to add the images and videos to the Pickcel media library before you start making your digital catalogue using the app.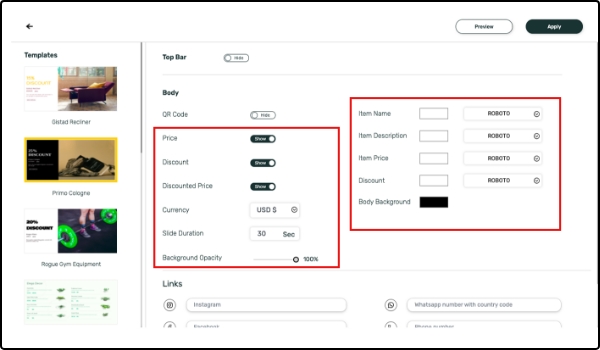 5. Customize the template
Beauty is in the eye of the beholder, but for an audience to see it, you must adapt your design in such a way that it causes people to stop and stare.
After you've chosen a template, there's a settings option beside "preview" that you can use. A page with all of the possible customizations will appear.
Color: Scroll down to 'body background,' where you can customize the template's color and opacity to your preference.
Font: You can also change the font for each category on your design, making it easier to highlight something that stands out from the rest to emphasize its importance, such as a discount offered or a discounted price, for example.
Set Currency: The app enables you to choose any currency so that users across the globe can use this app. You also have the control to show or hide your product prices and discounts in the digital product catalogue.
Slide Duration: Users can moderate the transition speed of each product slide on the digital product catalogue.
6. Add a QR Code
The Pickcel app lets you embed a QR code into your digital product catalogue. Customers can scan this code from the digital signage screens and view the catalogue on their mobile devices. This ensures more flexibility and interaction.
After you've added the product name, image, and description and have edited the template aesthetics, you will have to save your electronic catalogue first. Once your template is saved, you can click on the QR icon and download the QR code as a banner or save it as a media file You can then go to the settings and enable the QR code on your catalogue.
Note: Download the QR code as a banner: This option will allow you to download the QR code as an image file in your system's local storage. Users can print this QR code and show it elsewhere aside the digital screens.
Save QR as an image in media: This option saves your QR code directly within the media module of the Pickcel application. So, users can add it instantly to their electronic product catalogue by simply enabling the QR feature.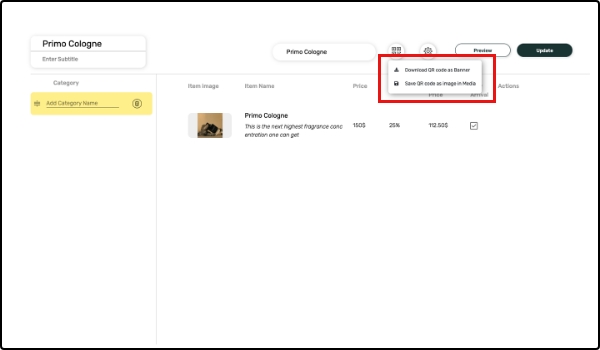 7. Add Shareable links
Instagram, Facebook, Whatsapp, and Snapchat are examples of social media connections that can be included in your digital product catalogue. You can also include a phone number and a link to your company's website, making your product catalogue accessible to all mobile users.
8. Finalize your design
After you've finished designing your product catalogue, click 'Preview' to see how it will appear to your audience, and you can also go ahead and modify it if necessary. If not, save your catalogue and put it on display for all to see.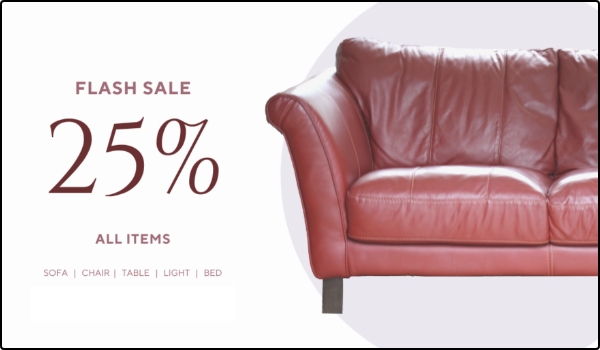 Why use the Pickcel app for your digital catalogue?
Of course, there are many ways to create a digital catalogue for your business. But, considering your interest in a 'Digital' catalogue, we can guess that you want to showcase your products on commercial signage or TV-turned-digital signage.
If such is the case, you will require a content management system for your digital signage network to drive the content to your screens.
The Pickcel Product Catalogue app is free with the software: Whatever application you employ to design your products, you will require some amount of financial investment. However, with Pickcel, you just have to invest in the digital signage software. The app comes at no additional cost.
Cloud-based software: The Pickcel application is cloud-based; you can easily access your dashboard and create your digital catalogue online. Remote accessibility of the application allows you to make quick changes at any moment, from anywhere. With the Pickcel digital signage app for mobile,managing your store screens and digital catalogues gets even more simplified.
More than just product catalogue: Not only the Product Catalogue app, the Pickcel App Store a powerhouse stocked with 60+ useful apps such as the Digital Menu Board app, Queue Management app, social media apps, news apps, and many more applications that can improve your business massively.
Pickcel is an award-winning brand. Reach out to us for digital signage consultation and product demo.
Ready to join 1500+ global brands growing their business with Pickcel?