Empowering thousands of businesses globally
Powerful web-based platform
Our web-based software is hosted on the cloud but ready to be deployed at your private data center. Pair unlimited screens with the Pickcel dashboard and manage everything remotely.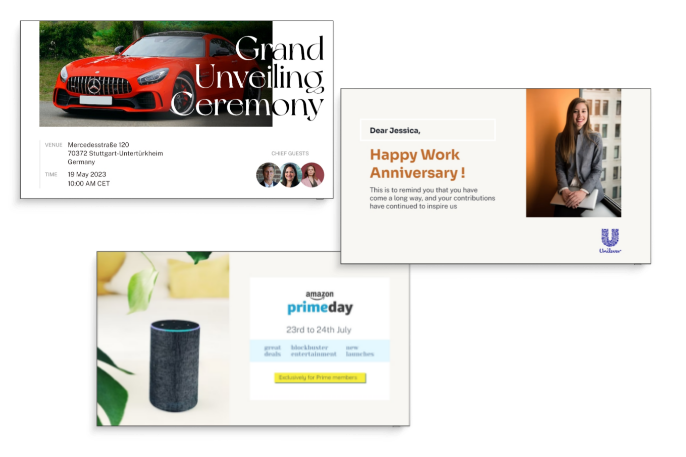 Simple 3-step display registration & setup
IT infrastructure non-essential
Dashboard mobile-friendly (with the Pickcel Go app)
Ready for on-premise deployment
Pickcel can be hosted on your organization's local servers. By deploying the software on-premise, you can enjoy top-notch security and data privacy, keeping sensitive information within your own network. Introduce your business to optimized performance and responsiveness with content delivery and updates happening in real-time.
Schedule My Demo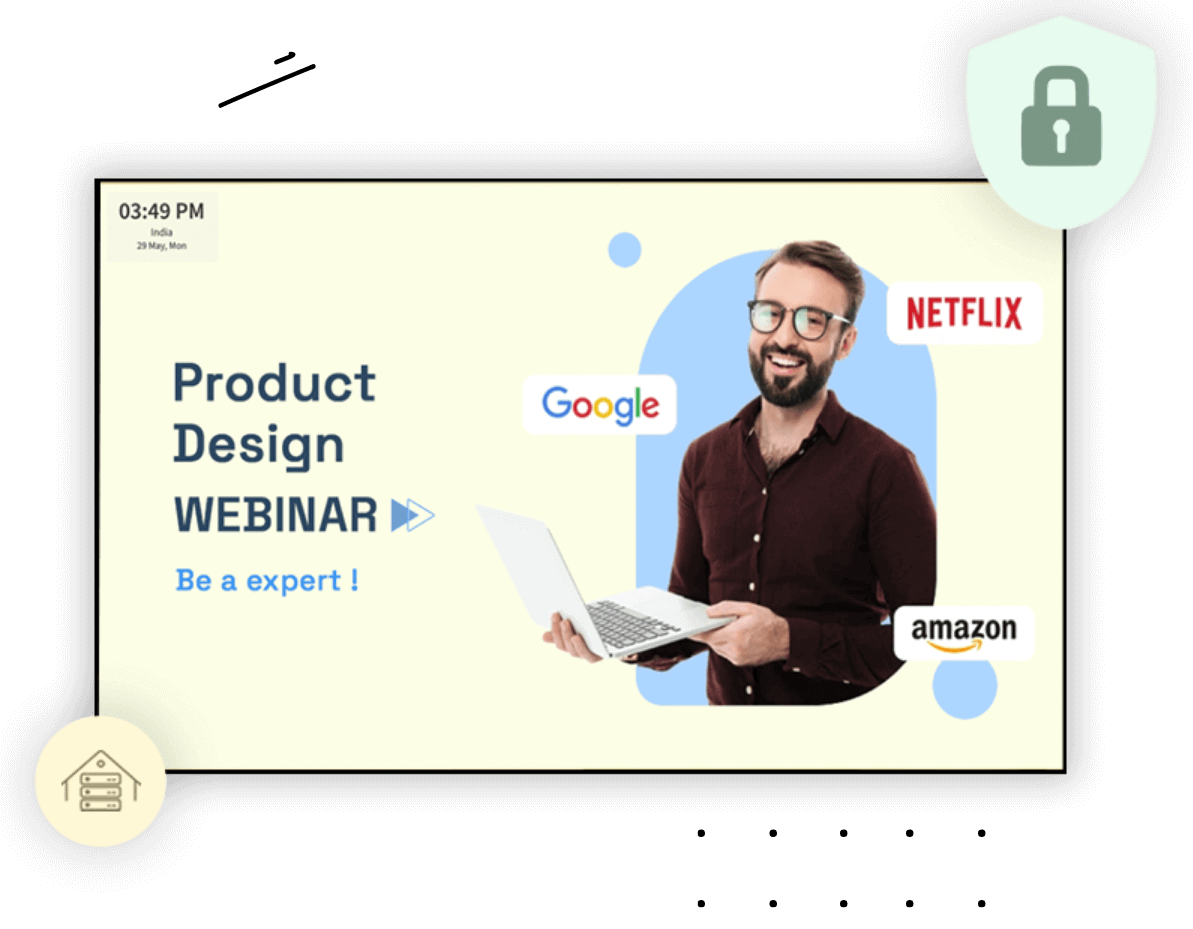 Put your screens on autopilot with 60+ free apps
Pickcel's cloud-based digital signage software integrates popular business platforms. From Zoom to Twitter, from Google Suite to Slack― take your entire organization apparatus on-screen. Add dynamism to your LED advertising displays & other electronic signboards with engaging content from Pickcel apps. Show live weather, clocks, scrolling text, countdown timers, QR codes, digital menus, web pages and more!
View all apps
Simplify your creative process
Some designs are saved in the drive; some are on the cloud. Some are living in your imagination. Whatever way you choose to compose your content, we have the necessary tools.
View all apps
Supports playing images, videos, live & multimedia content

Built-in graphic design tool 'Artboard'

Tons of free, editable templates

1M+ free stock images

Flexible layout designer

Canva integration (premium graphics included)

Custom tags for faster media asset discovery

Preview-before-publish options
Interactive digital signage: Beyond visual engagement
Make your signage TVs more functional by adding the best interactive features. The Pickcel software offers touch-based and touchless solutions for self-service kiosks, electronic info booths, QR-based campaigns, sensor-based displays, multi-touch screens & more.
Learn more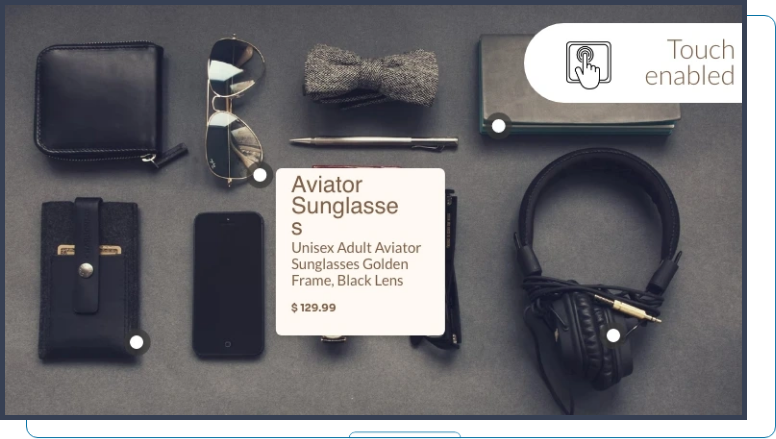 Digital signage platform designed to be redesigned
One size never fits all. And we understand that. That's why we customize our software application to suit your precise business needs.
Integrating for process automation
Intelligent programmatic advertising
Integrating with dashboards & internal servers
Custom app creations & a lot more
Integrating with IoT systems
Learn about customization
All Essential Features in One Place
Play, schedule, bulk post
Agile media publishing means better time management. With a built-in scheduler, you can avoid the eleventh-hour rush & automate content publishing on screen. Additionally, our screen grouping option enables faster media distribution for larger screen networks.
Collaboration-ready
Enterprises work best through collaboration. Our digital display software lets you add team members and authorized external stakeholders to manage screen networks efficiently. Add unlimited collaborators, create tiered user roles, and gain better control over screen management.
Excellent device compatibility
Experience a smooth deployment across all devices as Pickcel is supported on all signage player OS & display types, such as Windows, Android TVs, Linux systems, macOS, Raspberry Pi OS & more.
Top-level security
At the core of our digital signage software is watertight security. Pickcel is SOC2-certified. From web infrastructure to payment gateways, your data and privacy is protected.
Design. Publish. Scale.
From start to finish― a single digital signage software to make your screens smart.
Digital signage software is a tool that enables users to manage content displayed on digital signage screens. These software applications power small to large screens that we see everywhere nowadays (billboards, kiosks, video walls, and all types of displays that we see on roads, offices, hospitals, airports, shopping malls and many other public places.) If you have digital screens that display contents to a targeted audience, whether it is for commercial purpose or for public information, you will require a digital signage software to operate those screens. You can also upload media or create contents within the software application and directly publish them to your signage screens. Some of the leading digital signage software providers such as Pickcel also offer advanced features like content scheduling, sharing of reports & analytics as well as perform varied levels of custom integrations with third-party systems to make the digital signage software more time-efficient and serviceable.
Digital Signage Software can be used by various types of businesses including retailers, corporate houses, hospitals, clinics, and health care centers, and hospitality industries to publicly display content and messages on the digital signage displays. Additionally, the digital signage software can also be used by education, banking, and financial institutions, manufacturing units, and, transportations services to advertise, engage, and entertain customers. There are immense possibilities of using advertising screen software for various purposes including digital out-of-home advertising, or DOOH, community information, traffic updates, environment safety updates, and city wayfinding maps for smart cities.
Effective communication is one of the primary benefits of digital signage. Digital billboards software allows businesses to manage digital signage systems and communicate directly with their target audiences. They can showcase their products or services on eye-catching displays. Contents displayed on the attention-grabbing digital displays can influence customers' behavior and boost sales for increasing profit.
Another benefit of digital signage software is that it allows businesses to convey important messages, special offers, and promotions during the critical moment when customers are contemplating making a purchase. Beautiful and pleasing visuals with appealing texts can have a soothing effect on visitors. Therefore, digital signage software is a powerful visual communication tool to attract and engage audiences.
Pickcel digital signage software offers additional benefits that include user management, group management, and tag management. The user management feature helps manage users, assign roles, and displays within an organization. With the group management feature, users can add display groups, and assign it among themselves to manage signage content. The benefit of the tag management feature is that it provides a fluid tagging mechanism to categorize, search, and schedule content. Besides branding and marketing campaigns, digital signage displays can also be used for serving useful information, news updates, and entertainment.
To answer that briefly, it depends. Your investment on digital signage software will depend on your business requirement and the number of screens in your network. Most software providers use a per screen subscription-based model where you are charged at a '$$/Per Screen/Month' or '$$/Per Screen/Annually.' So, it's basically a multiplication game. Charges are slightly more if you need customizations in the software.
Furthermore, many software vendors offer licensed apps which are not accessible for free. If you need to purchase those apps, you will have to bear the additional costs.
Pickcel offers affordable digital signage solutions. You can enjoy around free 80+ apps (news, social wall, menu board, bulletin board, product catalogue, live weather, etc.) Head over to our Pricing page for more information.
The purpose of digital signage software is to enhance customer experience through engaging content like video, graphics, and texts. Digital signage helps businesses with internal communications with employees as well as external communications with customers. It is a centrally controlled platform for content distribution. With digital signage display software, users can playback digital content like advertisements, live news, menus, flight schedules, train schedules, and many more on one or many screens.
Reliable software for digital signage must have advanced features like display management, play in sync, advertisement scheduler, and cross-platform support to help conduct cost-effective marketing campaigns successfully. Pickcel digital signage supports the display of any size and offers these key features.
Supports multiple video formats like mp4, AVI, MKV
Supports multiple image formats like JPEG, GIF, PNG
Specific Pickcel digital signage apps available in multiple languages
Editor to design screen layout or choose from the standard template
Supports various signage player hardware OS including Android, Chrome OS, Linux, Windows, LG webOS, Amazon Fire TV, and Samsung Tizen
Calendar view for better visibility of schedules
Option for scheduling daily, weekly, and monthly
Pickcel digital signage app for real-time news feeds, social feeds, communication, and collaboration.
Supports 4K resolution
In addition to this, Pickcel digital signage software has an auto-start feature. Just power on the signage device and start displaying content. Our digital signage systems can be customized and also features API integration. Users can generate customized reports such as display uptime, number of times, and duration of a played content and other matrices for business requirements. The signage device also works in absence of internet connectivity and plays stored content in offline mode.