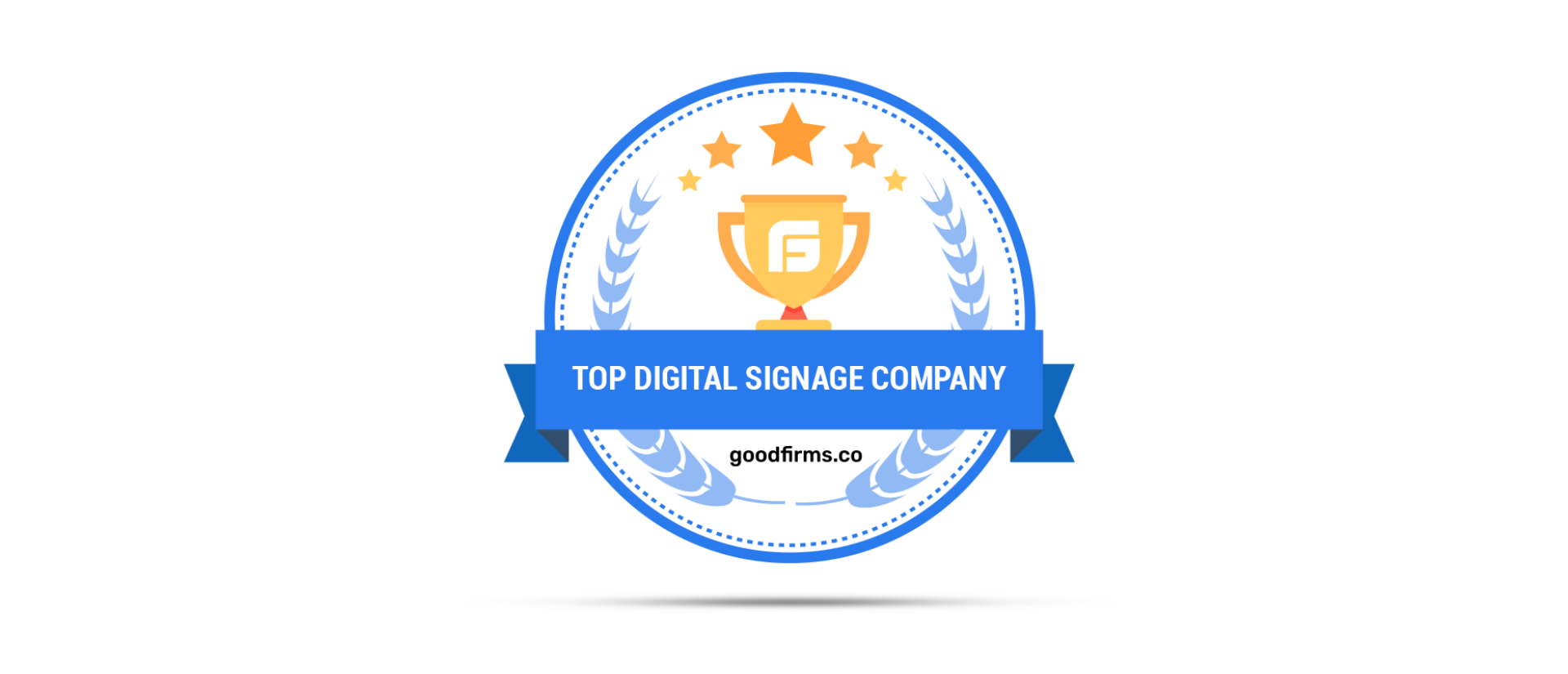 Pickcel Ranks High at GoodFirms For Their Outstanding Solutions
Pickcel is actively taking innovative approaches to deliver digital signage solutions. The firm also remains a top choice among multiple companies due to their effortless and comprehensive ways of displaying content.
Have a look at the profile of Pickcel to know more about their features and other information in depth.
About the Company
Pickcel is a cloud-based signage solution institutionalized in 2014; since then the firm drives on the mission to run effective digital signage service. The software is easy to use and packed with competent features to satisfy any requirements related to digital signage. By hosting signage for Android, Fire TV Stick, LG WebOS, Chromebox, etc. the firm has made a mark in the industry.
Pickel has developed app infrastructure mainly to support content for social media, web feeds, news, weather, and many more. Flexible with its approach, the company follows winning strategies to support enterprise-level signage that is essential for internal communication as well as signage for DOOH advertising.
What is Digital Signage?
Digital Signage can be described as a centrally controlled content distribution platform, either for one or many display screens. In other words, it can also be described as an electronic display that displays video or multimedia content basically for advertising purposes, unlike the traditional signage. The necessity of digital signage has evolved over the past few years, with companies like Pickcel coming forward to offer premier solutions in the niche. Working constructively to serve clients from different industries like retail, corporate healthcare, hospitality, education, and a lot more, the company builds robust solutions.
Solutions Offered by the Company
Queue management: With QR code scanning on a mobile phone, information regarding the queue can be displayed.
Social Wall: This app allows users to curate multiple social media platforms and showcase content on a single web-page.
Visitor Management: A self-service kiosk application to help people validate their check-ins
Digital Discount Coupon: This makes it easy to get a personalized and dynamic coupon by just scanning QR code.
Android Device Management: This feature helps an organization to deploy and manage android powered devices for digital signage
On-premise Digital Signage: This technology helps companies deploy digital signage platforms in a local data center with a content management system.
The features and offerings by Pickcel endow its place as the best digital signage software at GoodFirms.
The below review given by Frank O'Neil explains the quality services offered by the Company.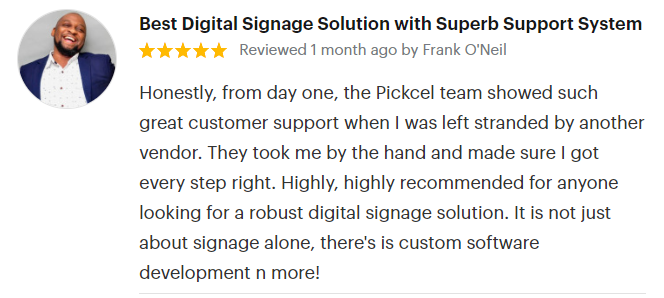 Pricing
Pickcel offers a free trial for 14 days for (2 Displays), and the underlying price starts from $ 15 up to (50 Displays). The bifurcation in price is as per the displays; for more than 50 Display, the company has set different prices based on the requirement.
About GoodFirms
Washington, D.C. based GoodFirms is a maverick B2B research and reviews firm that aligns its efforts in finding the top software delivering unparalleled services to its clients. GoodFirms' extensive research process ranks the companies, boosts their online reputation and helps service seekers pick the right technology partner that meets their business needs