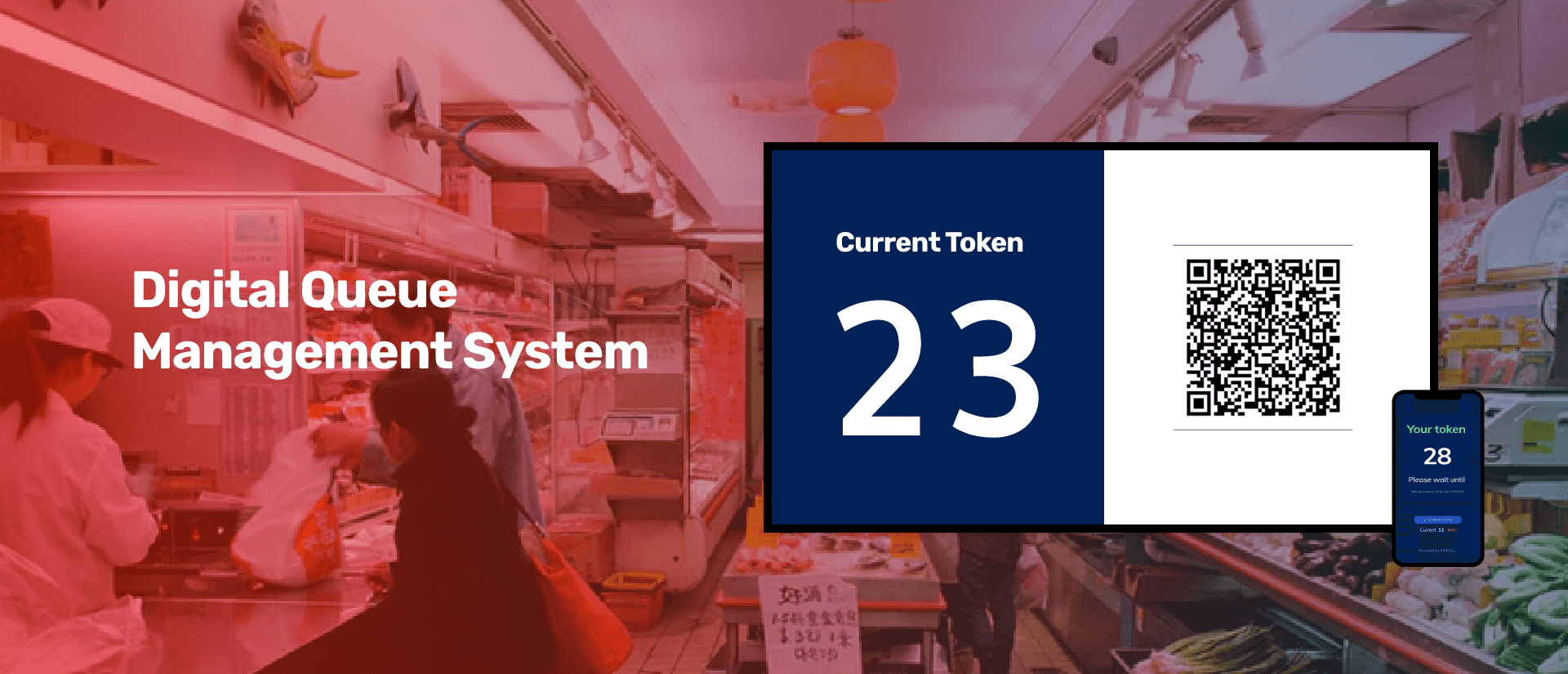 Digital Signage
queue management
How Digital Signage Can Improve Queue Management
A certain customer waits in a long queue at one of the billing counters near 'Exit A' of a supermarket. All the counters near 'Exit A' have similar drawn-out queuing lines. The customer has only three items to bill. But, the other shoppers in front of her have their carts full. The customer is restless. She has to pick up her son from school. On the further end, near 'Exit 2', a new billing counter becomes operational, only for shoppers with less than ten items. The sales clerk makes the announcements about it, but the customer fails to hear him over the loud music playing in her ear pods. Angry and frustrated with the service, she dumps her items and leaves. Later that day, she posts her miserable experience on social media, rates and reviews the supermarket poorly, and even recommends against it to some of her peers. Thus, despite sufficient arrangements, the supermarket ultimately incurs a loss of profit as well as reputation.
That is what makes a proper queue management system so indispensable, especially for businesses. So much so that, businesses often tend to refer to A.K. Erlang's comprehensive mathematical 'Queuing Theory' to design their public visiting spaces, organize and estimate queue lengths and evaluate peak visiting hours- all for smoother and better customer experience (CX).
Evolution of Queue Management system
The history of the queue management system is as old as queuing itself. Earlier, queues were managed through physical barriers and human resources who would guide visitors through the entire process. Then came the age of electronic queue management system where touch screen kiosks would deliver queue tickets to customers and digital signage would be used to communicate with and guide the visitors. With rapid development in technology, businesses are now investing more and more on the absolute latest solution for queue management: a SaaS-based virtual mobile queue management solution. This solution combines the benefits of cloud computing, digital signage, and smartphone devices to create a highly flexible, easily manageable, and cost-effective queue management system that is lucrative for both businesses and customers alike.
The brand new era of the automated cloud-based mobile queue management system
With Artificial Intelligence (AI) and Virtual Personal Assistants (VPA), the interaction between consumers and service providers is becoming more and more automated. According to the senior research director of Gartner, Anthony Mullen, "The trend of customers assigning their endless digital activities to their virtual personal assistants (VPAs), chatbots and other self-service tools will grow over the next 10 years."
Advantages of the cloud-based mobile queue management solution for businesses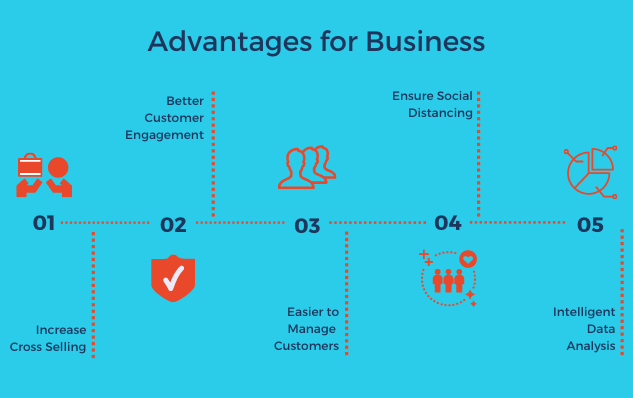 Increased chances of cross-selling of products

How many of us often end up buying books, gadgets, handbags, perfumes, and other non-essential products while waiting at an airport lounge? This consumer psychology is termed as 'impulse buying'. According to Invesp, the average customer makes at least 3 impulse purchases from 4 out of every 10 stores they visit. While physical queuing or paper tokens anchor customers to the service zone, with Pickcel's advanced mobile queue management solution, customers can simply roam free during their wait time. The advantage of this is two-fold. On one hand, mobile queue management allows customers to browse through the ancillary products and services offered by the stores and significantly increase the stores' sales and branding prospects. On the other hand, it keeps the customers and clients engaged and effortlessly keep them away from the frustration and discontent that comes with physically standing in a queue.

Better centralized controls through cloud-based admin panel

The greatest benefit of using cloud-based solutions lies in the fact that it has no rigid physical existence. Anyone with a designated set of access keys can easily log-in to a portal and control, monitor, and manage the visitor traffic. It provides huge flexibility to the management in terms of space, time, and authority. It also eliminates the risk of misplacing data stored in hardware like DVDs, pen-drives, etc., thereby offering much better security. The unlimited storage capacity of cloud-based queue management solution gives an upper hand to the traditional queue management systems. Pickcel's Queue Management Solution combines all the excellent benefits of cloud computing to offer a smooth, automated queue management experience for businesses that make customer satisfaction their top priority. One of the unique features of Pickcel's Queue Managehugment Solution is that it allows multiple queue management simultaneously through a single cloud-based admin panel. Multiple queue management is commonly required in sectors and services like banking, retails, hospitals, etc.

Intelligent analytics

In 2013, a report named 'Customers 2020' , Walker Information predicted that by 2020, customer experience and not the price of products will act as the major differentiator between competing brands.

Therefore, businesses need to monitor visitor or customer traffic through smart analytics. Pickcel's queue management solution offers businesses a detailed, comprehensive analytic report on daily, weekly, monthly, and yearly fluctuations in visitor traffic, peak visiting hours, cancellations, no shows, average dealing time per customer, etc. These reports and data can immensely help businesses to understand customer psychology, shopping patterns, optimum customers' Willingness to Wait (WTW). The intelligent analytics can also help businesses to perceive and predict average wait time for their services and allocate staff accordingly. The result is an overall increase in customer satisfaction.

Customer engagement through digital signage

Many psychologists believe that customers' boredom and frustration while waiting in a line are often driven by perception. It has been found that customers who are made aware of an estimated wait time tend to have more patience than those who are kept in the dark. According to an article published by The Washington Post, Disney uses a smart strategy of showing an over-estimated wait time to its visitors at the entry gates. But, when finally the wait is over much sooner, the visitors are left with a sense of joy and satisfaction instead of boredom and frustration. The overall takeaway from this is: customers should be engaged all the time! One of the key advantages of Pickcel's Queue Management solution is that it uses digital signage to display various advertisements, educational guides, social media posts, news, sports, live activities inside the building premises, and a host of other audio-visual contents to entertain and engage customers while they wait. While users can view their tickets, estimated wait times, and real-time queuing updates in their smartphones, these can also be displayed through digital signage. These contents and live updates can be controlled from a single server and multiple contents can be played across different digital signage platforms at different geographical locations suitable to the need of the business. Therefore, it offers higher flexibility and customization to cater to the needs of almost all business sectors. Pickcel's Queue Management solution is also unique as it offers multiple compositions in a single display screen. The technology also offers a myriad of display layouts to choose from.
Advantages of the cloud-based mobile queue management solution for customers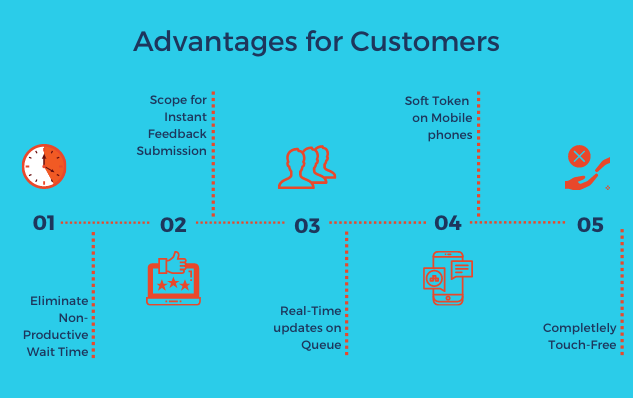 Eliminates non-productive wait time

In today's world, time is money. And, money is precious to all. This is the reason why businesses employing automated mobile queue management solutions will fare much better in the race to please customers and win customer loyalty. In the absence of any compulsion of being physically present, the customers can invest their valuable time and energy to make other purchases or deal with other businesses or simply sit in a café reading a book. With real-time updates and notifications on their smartphones, customers can finish their ancillary business and return to the queue before their turn arrives. The freedom that comes with this advanced queue management solution is a game-changer.

Completely contact-less

People are often heard to complain about touching public surfaces. As a result of this, recent years have seen a growing number of airport lavatories replacing conventional taps with touch-free sensor ones. The numbers of such changes are sure to grow now that the coronavirus pandemic has created ripples of health concerns across the world. Many businesses are also gradually shifting towards contact-less modes of activities through sensor-based or facial or voice recognition technologies. Pickcel's Queue Management solution allows customers to scan QR codes and generate virtual tickets on their smartphones. The QR codes continuously change allowing zero disruption. Therefore, it provides a much safer and preferable touch-free alternative. Additionally, it also champions environment friendliness.

Scope for instant feedback submission

According to a study, 95% of dissatisfied customers can be retained through grievance redressal. Hence, continuous feedback collection from customers can help businesses to analyze the weak areas of their services. Using Pickcel's queue management solution, customers and visitors can input their feedbacks through a mobile application. This allows better interaction between customers and the service providers and presents greater opportunities for businesses to improve their customer experience.
Sectors that can benefit from the new automated cloud-based mobile queue management solution
There are several sectors where queue management becomes a painstaking affair as often not enough staff can be deployed or the staff to visitor ratio becomes highly disproportional. Sometimes, these queues can be structured while in other cases, unstructured queues may arise suddenly during emergencies or peak hours. Some of the sectors where queue management becomes an essential element are banking, retail, healthcare, aviation, service sector, amusement parks, education, public sector, F&B service sectors, etc. In these sectors, traffic of visitors can be easily managed through self-help kiosks where customers can scan a QR code to get their queue tickets directly into their mobile screens. Additionally, digital signage can be used to show ticket numbers, estimated wait times, and various other contents according to the need, if required, all on a single screen.