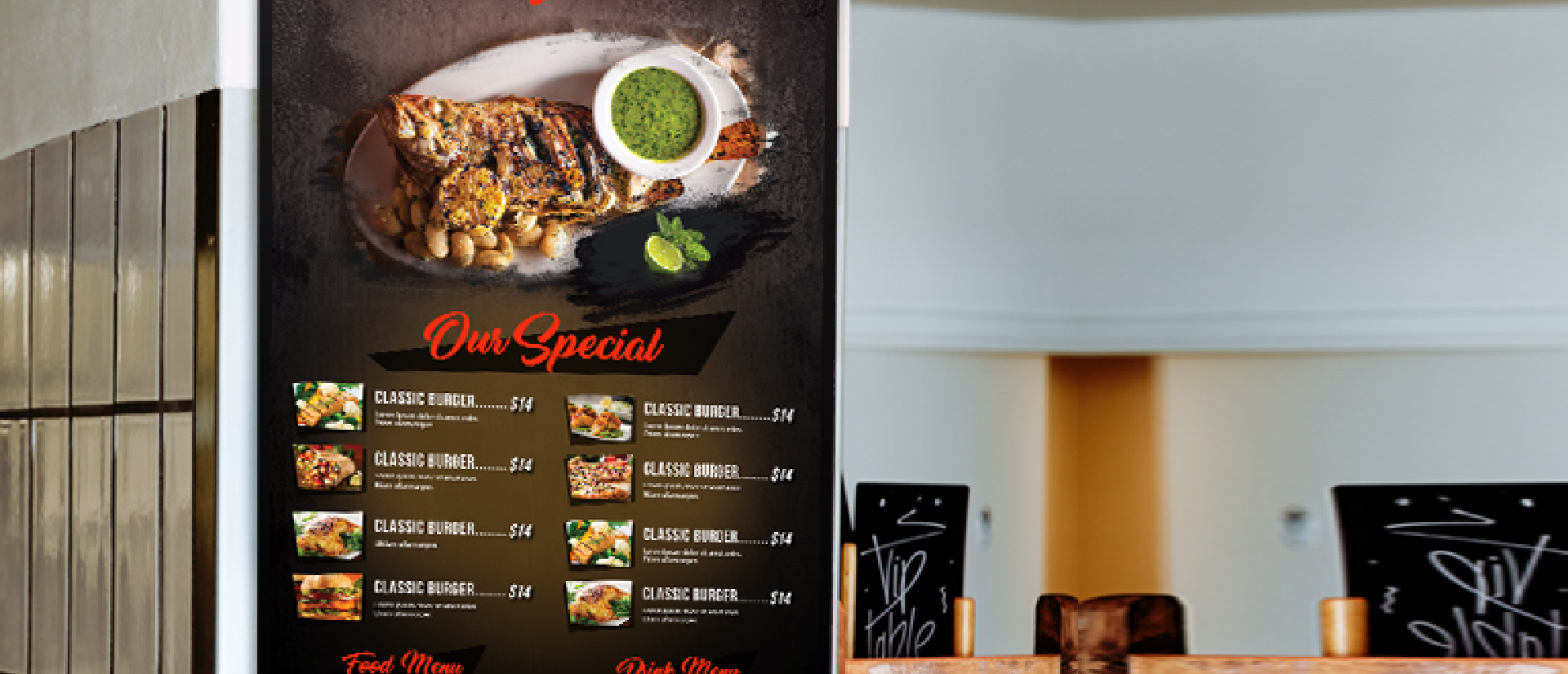 Tips to Create Amazing Digital Signage for Your Restaurant
In a restaurant business, the more you appeal to your customer, the better would be your sales. When customers walk into your restaurant, they are looking for good food that can satiate their cravings. A restaurant's work begins when a customer enters with a desire to eat good food.
But how do you let them know what you have to offer them? That's where digital signage for restaurants helps. Digital signage for restaurants is basically setting out the message on different screens. It is the best way to engage customers. You can attract them by your menu and convince them that they can have the best dining experience at your restaurant.
Apart from the menu and offer card, restaurant sign boards are also a part of signages that make a significant difference to your restaurant's goodwill. You can use LED or LCD boards to display the menu and the name of the restaurant.
Tips to Make Your Digital Signage for Restaurants a Big Success
There's no doubt in asserting that digital signage for restaurants has become the need of the hour. But how do you make sure that you are doing it the right way? To further ease your hassle, here are a few tips that will help you along the way.
Eye Catchy Digital Menu Board
When you think about digital signage for restaurants and bars, the menu is the first thing that pops into mind. Believe it or not, people today are drawn to attractive and moving visuals that intrigue them. So, when creating digital menus, you need to be extra cautious with the usage of images and typography. You need to smartly play with the colours and make your menu appealing and appetizing. For instance, when you mention a range of coffees, try adding animated coffee with a steaming cup.
Learn how to create amazing digital menu board content for free with Canva.
Tell Them It's Worth the Wait
People need instant gratification today and are always on stringed patience. Waiting for food at the restaurant for an unknown time period is probably the most annoying thing. It's the best time to make use of digital signage for restaurants. With digital display boards, you can let your customers know how long it will take you to serve them good food. You can also add the status of their order and give them live updates on the board. In fact, a study revealed that wait time guarantee, when met, can significantly increase customer satisfaction. There are plenty of enhanced ways to keep your customers satisfied.
Sell Your Seasonal Offers
Restaurants have daily or weekly offers that are meant to attract customers. Using digital signage to display those offers is a great way to encourage customers to try new things and build a strong relationship with them. It particularly works in the case of digital signage for bar restaurants when they have to display their happy hours and other offers. The employees at restaurants will also be able to upsell new items and promote the menu with the help of these signages. Instead of seeking help from the print media, going digital with your offers and bonuses is the best way to reach your customers.
Add Social Buzz to It
We are living in a social bubble, where people love to take pictures of their food and post it to social media before taking a bite. Why not tap into this growing demand and ask your customers to take pictures of the food and post it online, tagging the restaurant to get a free meal or drink. You can add social media handles to your digital signage for the restaurant and allow customers to contribute to it via clicking appetizing pictures of food at the backdrop of your restaurant. It is the best way to spread the word and make your restaurant even more popular among your audience.
The Bottom Line
There are plenty of ways in which you can make use of digital signage for restaurants. All you need to know is to learn the right way to go about it. If you are looking for a reliable solution for digital signage, Pickcel can help you in the best way possible. It is a premium cloud digital signage software solution where you can manage and publish your content on displays.
Contact us to know how you take your restaurant sales to new heights with digital signage from Pickcel.