Communication during a state of emergency can be done quickly and easily with digital signs. There are no limitations on where you can put up screens; corridors, lounges, and sometimes even open areas can all benefit from putting up displays to bring focus to digital signage emergency alerts.
Organizations operating in the realms of education, healthcare & transportation can benefit vastly from a screen network. Before we get into the details of how digital signage can be used to broadcast emergency alerts, let's first see a few types of emergencies where your ever-so-humble TV screens can save the day.
Accident and injuries
According to CDC data, 1.35 million fatalities are caused by road accidents each year. Accidents can cause massive chaos on the road, and DOOH signboards can help traffic controllers divert traffic, clear the accident sites, disperse the crowd, and alert vehicles with sensor-based speed limits.
But not all accidents happen on the road. Some accidents can occur within office premises or school campuses. That is why, nowadays, many organizations are equipped with infirmaries and on-site medical staff. There must be proper communication from one wing of a building to the other during an accident. And that can be achieved with a series of connected screens.
Natural disasters
There are several types of natural catastrophes. Seismic activity, storms, hurricanes, deluges, and other natural disasters are common occurrences. Thanks to technology, numerous natural hazards can be anticipated and prepared for ahead of time. Following regional news channels and global networks like CNN & the BBC on digital screens can help an organization take immediate measures as soon as public authorities notify emergency alerts.
What to do during an emergency?
From earthquakes to environmental contamination and workplace aggression, emergencies may strike in any location. This makes it more important to know what to do in an emergency.
The AIR rule can help you prepare in advance and avoid casualties. The acronym AIR stands for Alert, Inform, and Resolve
Alert
When an emergency strikes, the first thing any organization management needs to do is make campus-wide announcements to alert everyone.
Instruct
In case of any emergency, whether natural or industrial, panicking and losing your cool is never a smart move. People will panic, but you as an administrator must ensure that proper protocols are followed, and systematic action is taken.
Resolve
Calling for help and ensuring that no more damage is done is how you resolve a situation. For example, having an emergency alarm system and evacuation plan ready is necessary.
How can you send emergency alerts with digital signage?
There really is no full-proof way to prepare for a tragedy, but you could still ensure the safety of people in the event of an emergency on your campus.
What is QuickPlay?
To put it in simple terms, QuickPlay is a unique feature available in the Pickcel digital signage software that lets you play ad hoc content on your screens during sudden emergencies.
Let's understand it better with an example.
Suppose it's a usual workday for your organization. Students are pacing across corridors, co-workers are sharing their weekend's adventures sitting in their cubicles, or a nurse is taking care of her patients in the triage room.
And suddenly, your establishment is hit by a crisis, or there have been reports of forthcoming natural emergencies.
Using Pickcel's Quickplay feature, the administrators on campus can alert and instruct the people with the help of digital signage.
In order to assign any media as Quickplay, you need to pre-design the emergency alert message such as a Fire alert, earthquake evacuation alert, or a possible gun violence alert. When you assign any such media as Quickplay, the software automatically overrides the regular content on the digital signage and plays that Quickplay content. The minimum display time stands at 10 minutes, but it can be extended to 24 hours.
How to broadcast emergency notifications on your digital signage with Quickplay?
1. Craft an emergency alert notification and add it as a composition in the Pickcel dashboard.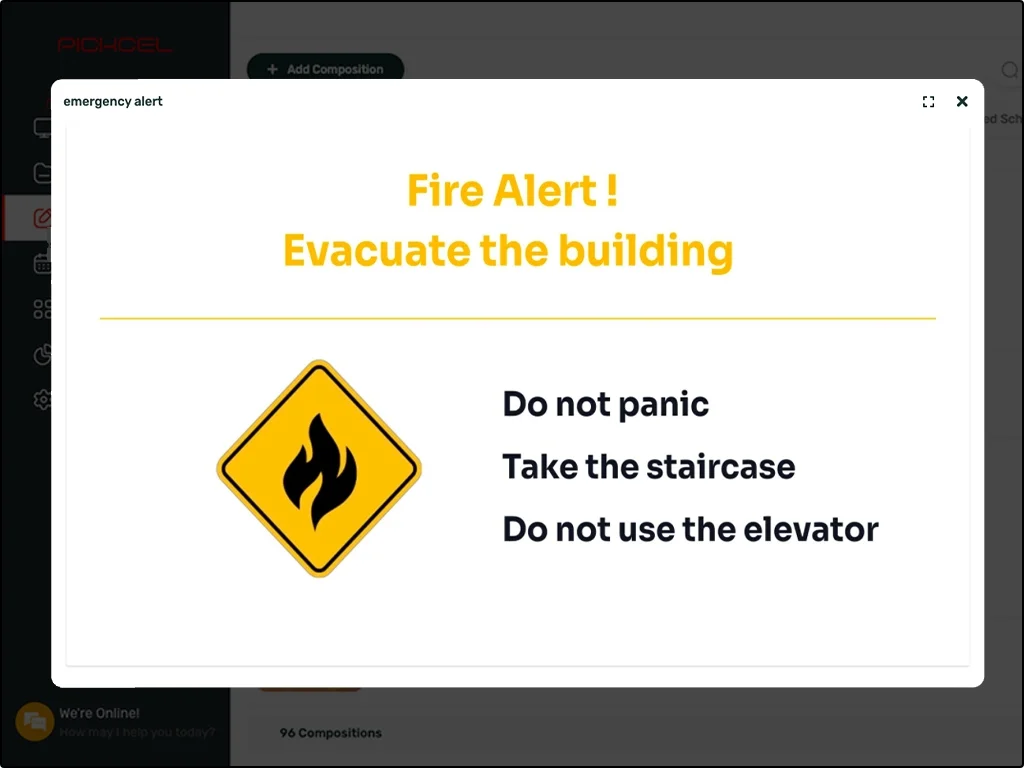 2. Go to the 'Composition' module of the Pickcel dashboard. Drag your cursor over the composition in question to view the three tiny dots. Click on the dots and choose the option 'Assign as Quickplay.'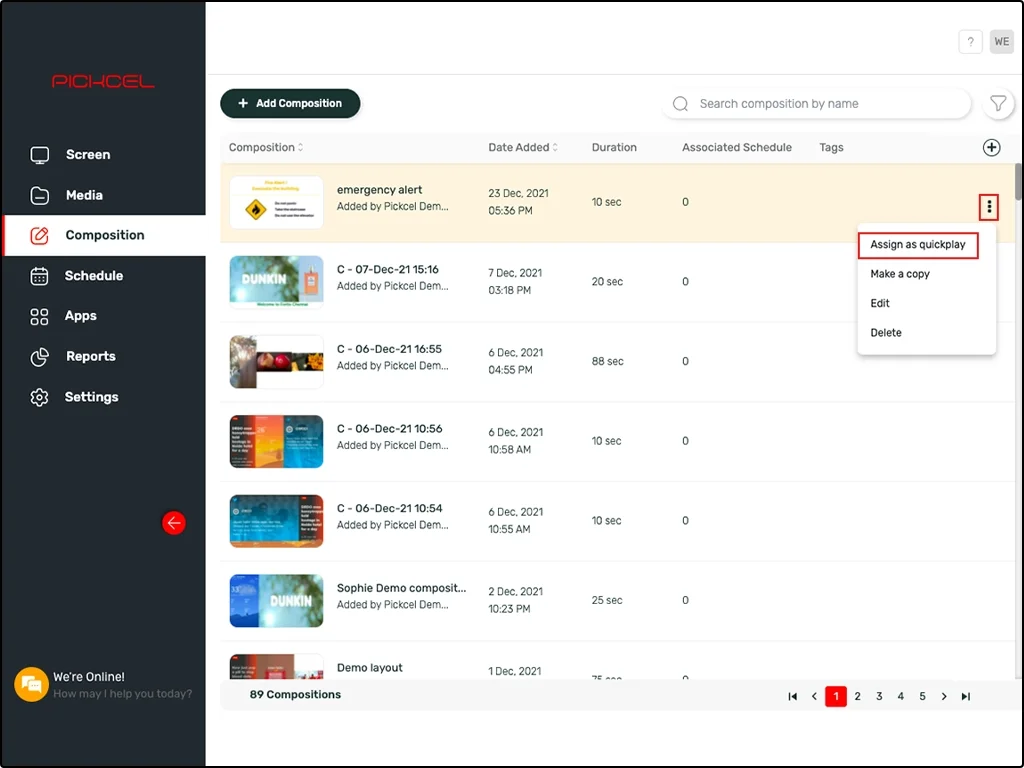 3. Select the screens on which you wish to play your created composition.
4. Assign the Quickplay on selected screens by clicking on the 'Submit' button.
Your emergency alert notification will immediately start playing on the selected screens.
Conclusion
Quickplay is a Pickcel feature designed to reach the maximum number of individuals within the fastest time feasible.
Pickcel's digital signage software has many other exciting features available at no additional cost.
Our clients enjoy free consultation on digital signage and a lifetime of software updates. Talk to us if you want to get the best digital signage solution for your organization.
Make better use of screens. Try Pickcel!