The Client
As the name suggests, Fun Station is a fun-packed family entertainment center for people of all ages. The gaming arcade is the first choice for those who adore batting cages, go-karts, laser tag, gem mining, arcade games, mini-golf, and a slice of delicious pizza coupled with your favorite beverage combo.
Fun Station approached Pickcel because the center was facing issues and wanted to revamp its old and stagnant content management system.
The Challenge
Fun Station operated its internal communication network for several years, but it could not extend or modernize it. A segment of the old system's displays would not run during peak periods such as summer rush hours because of unacceptably high levels of downtime.
The client required a feature-rich, flexible, easy-to-implement digital signage software application. There was a need for a visually engaging content design in order to hold the attention of those walking in.
In addition, Fun Station needed a robust and flexible platform to display its prices of Laser Station, Volcano Falls Golf, services, and any alterations within it. Owing to the recent Covid 19 outbreak, Fun Station also needed to convey social distancing warnings.
After trialing several digital signage vendors, Fun Station chose Pickcel as the partner in its mission to cut through the clutter and offer valuable details to its core audience.
The Solution
Pickcel deployed its digital signage software at various Fun Station locations, including Edinburgh (Scotland), Birmingham (UK), Castleford (UK), Milton Keynes (UK), Nottingham (UK), and several other locations throughout England.
These high-definition screens turned the ordinary game zone into a jaw-dropping studio. Besides using the Pickcel content management system to update information and entertainment videos on screen, the client also leveraged the Pickcel apps like Instagram Plus on their video walls to show their Instagram feeds in real-time.
The Pickcel team supported the client throughout the entire process of deployment. After installation, the technical team also assisted the Fun Station management with training videos, software handling demonstrations, and other support resources.
Key Benefits
Scalability: The Pickcel digital signage application is robust; it allows publishing content and rendering seamless multimedia playback across 1000+ screens without any network interruptions. As the software is hosted on the cloud, the client can scale up their signage network with just a hit of a computer key; no IT setup will be required.
Hardware-agnostic: The Pickcel software is hardware-neutral; if the client wishes to upgrade or switch their digital signage player due to shifts in business functions, the software will be supported on the new hardware without any difficulty.
Lifetime software updates: The client will enjoy free software updates indefinitely.
The Outcome
Advertising products and entertaining customers are a big part of the client's growth strategy. With the screen network in place, the client could make optimized use of their displays to:
Show available games and game scores,
Advertise beverage and snack options
Promote membership plans
Play entertainment videos
Engage customers with a social wall and user-generated content
This approach resulted in a 37 percent increase in sales.
The Pickcel solution has reduced a great deal of time and money needed to communicate information throughout the site.
The management can remotely track the screen activity in different locations. They can carry out discrete promotions & offers for separate areas from a central dashboard.
On top of that, the Fun Station staff can schedule various content ahead of time, increasing their overall productivity.
Leverage the power of screens with Pickcel!
Join 1500+ Pickcel clients like Fun Station, Amazon, and Unilever who are creating history with us.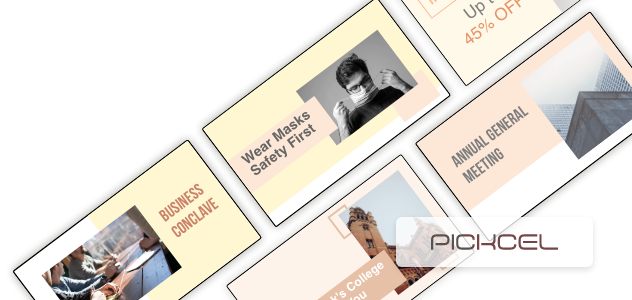 Our Case Studies Will Help You Decide
Learn how Pickcel is helping businesses in every industry achieve their goals
View All