The Client
Geist Brewing Co., an Indian craft beer brand, has carved a distinctive niche in the craft beer industry with its commitment to crafting fresh and environmentally-conscious beer. Founded in 2017, Geist Brewing Co. has successfully introduced a range of global craft beer styles to the Indian market.
Now available in Bangalore, Hyderabad, and Pondicherry, Geist Brewing Co. faced a pressing challenge in effectively showcasing their offerings, promotions, and menus to their discerning clientele.
The Challenge
Operating in the dynamic food and beverage sector, Geist Brewing Co. recognized the crucial role of visually captivating displays in engaging their customers and conveying their unique offerings.
The challenge lay in maintaining up-to-date promotions and an enticing menu on display, considering their ever-evolving product lineup. The need of the hour was a scalable solution that could flawlessly deliver their promotional videos, advertisements, and offerings to patrons across multiple locations.
The Solution
Understanding the need for a digital alternative, Geist Brewing Co.—with the objective of showcasing their company's essence, promotions, and offerings—was looking for a comprehensive digital signage solution. The Pickcel solution encompassed several components:
Android TV support: With digital signage for Android TVs, Geist Brewing Co. was able to bring their visuals to life. Collaborating with Philips, a trusted reseller, seamless integration of screens equipped with their advanced digital signage technology was ensured. Across 12 strategically positioned screens, Geist Brewing Co. could now effortlessly captivate their audience.
Company content showcase: The solution facilitated Geist Brewing Co. in dynamically displaying their promotions, captivating beer-making videos, and compelling advertisements. This dynamic approach to showcasing content aligned perfectly with Geist Brewing Co.'s innovative spirit and resonated deeply with their audience.
Complete control: Pickcel's intuitive Content Management System (CMS) handed the reins back to Geist Brewing Co. They could effortlessly update, schedule, and manage content. This newfound autonomy translated into real-time adaptability to changing promotions and evolving offerings.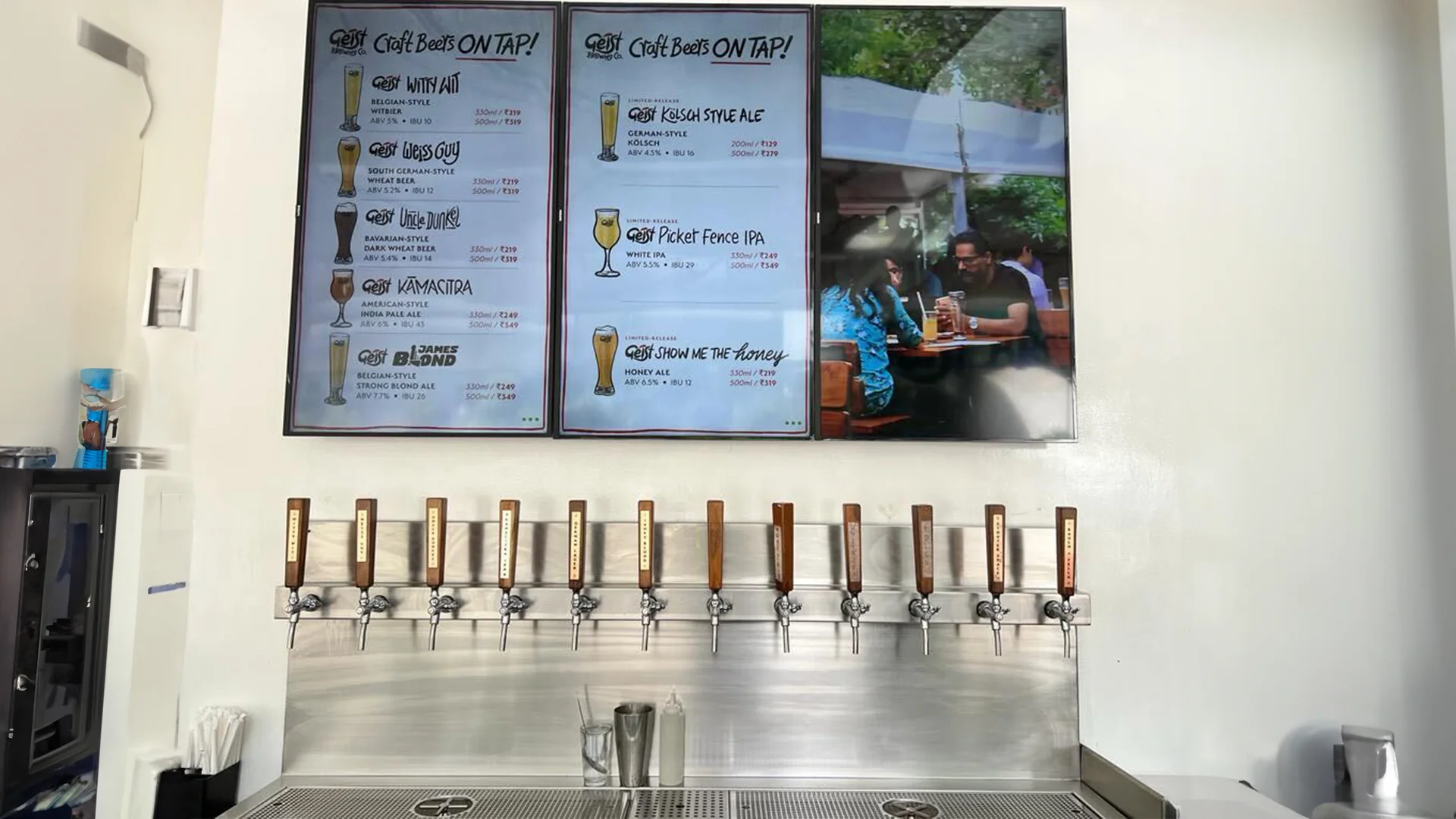 Key Benefits
Enhanced customer delight: The infusion of pickcel's digital signage solution markedly enhanced geist brewing co.'s customer experience. Engaging visuals and dynamic content fostered an immersive environment that resonated with patrons, enhancing their overall brand perception.
Seamless Android TV integration: The integration of Android TV support through Pickcel's solution not only ensured a robust and familiar platform but also streamlined maintenance and operation, resulting in a seamless end-user experience.
Effortless promotion and brand content management: Pickcel's software provided geist brewing co. with a user-friendly interface to manage their screens. Effortlessly running promotional content, updating menus, and showcasing brand stories became second nature.
The Result
Through the strategic implementation of Pickcel's digital signage solution, Geist Brewing Co. witnessed a remarkable difference in their customer engagement and brand positioning. While quantitative outcomes are a direct result of their continued efforts, the qualitative impact has been discernible. The dynamic visuals, seamless content updates, and captivating advertisements have led to increased footfall, elevated brand loyalty, and an unmistakable uplift in customer satisfaction.
Explore Pickcel's dynamic digital signage solutions today to captivate your audience and enhance your brand's impact.