The Client
UBN Enterprise — a dynamic player in the outdoor advertising and Out-Of-Home (OOH) solutions space—sought to broaden their horizons by embracing the digital way of advertising. Historically rooted in traditional advertising methods, this was their first attempt at tackling digital OOH advertising. This ambitious project centered around the government-run Intercity Shatabdi and Tejas express trains.
The Challenge
As UBN Enterprise took their initial steps into the digital medium, they encountered a myriad of challenges in implementing their vision on the Intercity Shatabdi and Tejas express:
Power Disruptions: The train environment was susceptible to periodic power interruptions disrupting digital screen functionality.
Connectivity Constraints: The logistical challenge of not being able to interconnect screens through traditional LAN cables.
Internet Stability: Maintaining a stable internet connection on high-speed trains was paramount, given the nature of the content.
Local Content Caching / PIS Server Limitations: The inability to house a local server on each train by unifying the screens and control content dissemination presented a unique hurdle.
The Solution
With these complexities in mind, Pickcel, an expert in digital signage technology, crafted a tailored solution for UBN Enterprise. The solution included:
Pickcel media player: Pickcel's proposed media player was designed to preemptively download scheduled content. Once downloaded, the content was sourced from local storage, insulating against intermittent internet interruptions.
Independent internet connection for screens: Recognizing the impracticality of a local caching server, Pickcel proposed that each screen operate autonomously in terms of internet connectivity.
4G dongle & in-compartment WiFi: In a pioneering move, each screen/media player was integrated with a 4G dongle and connected to in-compartment WiFi (when accessible). This ensured a direct link to the Pickcel Cloud server.
Value-added features: Beyond advertising, Pickcel enriched the passenger experience through the integration of real-time news tickers and up-to-the-minute weather updates.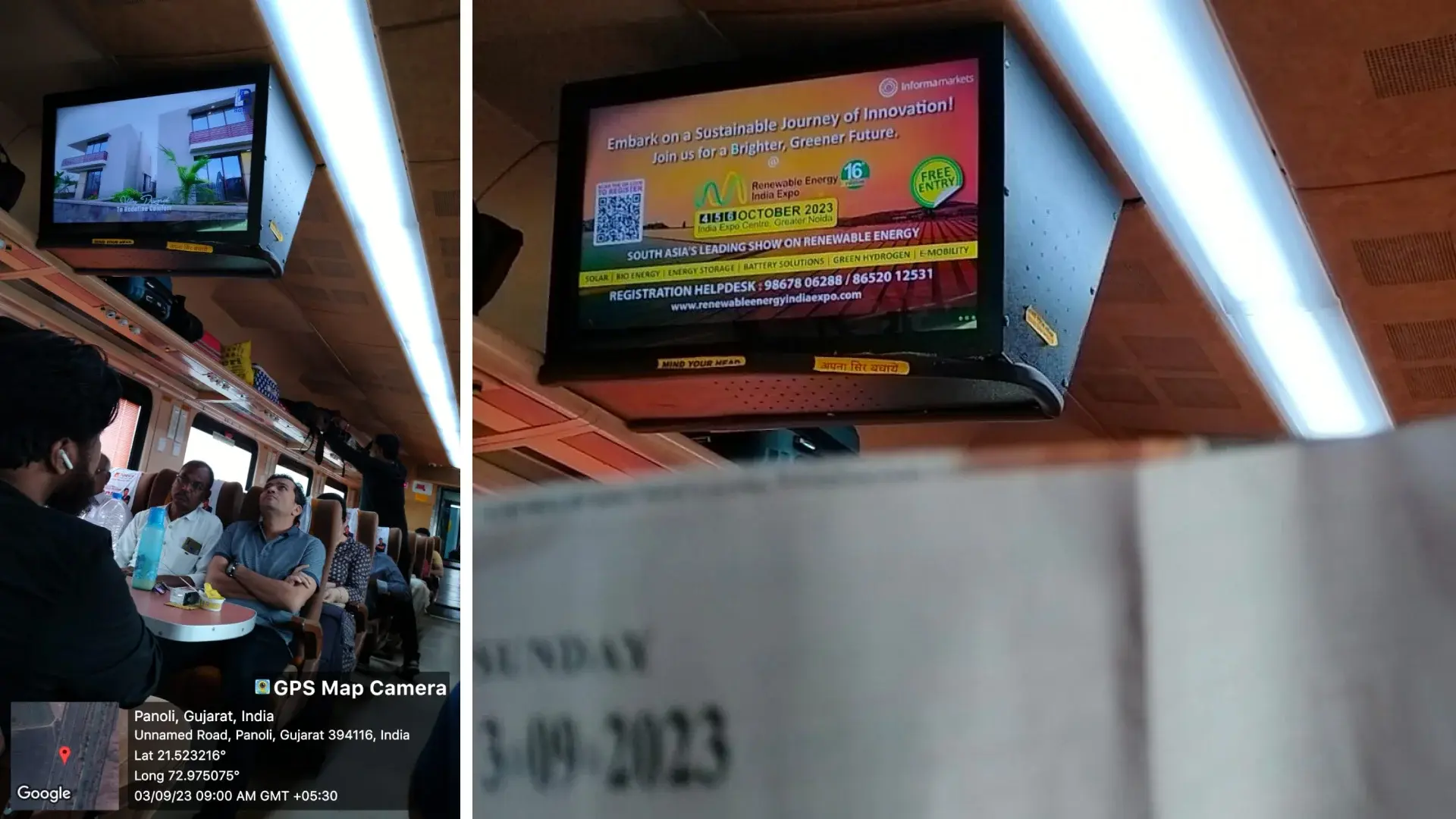 Key Benefits
Consistent display:With content being sourced from local storage, advertisements ran smoothly regardless of external internet conditions.
Augmented passenger experience: By integrating real-time news and weather feeds, the digital screens served dual purposes, both informing and advertising to the audience.
High ROI advertising space:The unique environment with a huge audience onboard the trains made the screens an extremely coveted spot for premium advertising.
Innovative approach:The bypassing of traditional connectivity methods in favor of independent internet connectivity per screen was a groundbreaking strategy.
The Result
With this collaboration, UBN Enterprise was able to successfully provide a platform for advertisers to run ads in a lucrative area. Not only did advertisers receive a platform with unparalleled attention rates, but passengers also enjoyed an enhanced travel experience. This solution has set a new standard for in-transit digital advertising, where traditional advertising meets digital avenues.