The term QR Code isn't new to us. We all have scanned at least one or have seen people scan it for online payment purposes.
But you are confused about how that works for a menu card, right?
And, let me guess, you have landed on this page because you've seen your competitors using QR code menus. You've learned how people like it, and now you plan to use it in your café too.
No worries. In this blog, we will guide you through the steps of making a QR code menu.
Before that, a glance at what a QR code menu is. A QR code menu is nothing but the digital version of a menu card that people can easily access on their mobile devices.
Here's how a QR code menu works for the end users:
There is a QR code in front of you,
You scan the QR code with your phone camera or a QR code scanner,
It takes you to a specific page on the web where the digital menu is hosted.
The QR code (Quick Response Code), as the name suggests, helps the restaurant staff have quick and easy business hours. Also, it saves them printing costs and allows more flexibility with menu item updates or price changes. Restaurants & QSRs don't need to reprint the menu card each time a small change is made. They can edit the menu (price, design, item availability) on the digital menu app, and it's done. Effortless!
When you create a QR code menu for your restaurant, you make things easier for your customers and your staff alike. The polished look of the menu provides customers with an upgraded dining experience. But more importantly, with a QR code menu, you can let your staff focus more on the actual hospitality than measly chores of bringing menus to tables or cleaning the menus after someone has spilled their soup on it!
Soon, we will see many restaurants creating a digital ecosystem to offer their customers a seamless experience. QR code menus will probably be the simplest module in that ecosystem. Cost-effective and straightforward, these touchless menus have already become popular post the Covid-19 pandemic.
How to make QR code menus for your restaurant in 6 easy steps
There are some factors that you have to work on while making a QR code menu. Firstly, hosting your menu on your website. Secondly, making your website mobile-friendly (and that's quite a task in itself!)
Restaurant businesses often find these ancillary technical functions to be cumbersome & frustrating when they try these in-house. And outsourcing generally burns their pockets. That is the reason many even drop the idea of going digital.
With a solution like Pickcel's digital menu board app, making a QR code menu becomes incredibly easy even for individuals with zero technical expertise.
When you make a QR code menu with the Pickcel app:
You do not need design experts to make a digital menu (You can use our free menu templates)
You don't need any app to generate a QR code for your menus.
You don't even need a website to host the digital menus. Pickcel shares its domain with you to host your online menus.
So, let's check out how to make QR code menus for your restaurants and QSRs using the Pickcel app.
Step 1 - Register/Login to the Pickcel Dashboard
To use the Pickcel app, you have to first create a free account with Pickcel. It is an online app, so you simply go to: https://console.pickcel.com/#/register and register with your email address/Google Profile/Apple Profile.
Pickcel offers its new users all the software features for free for the first 14 days.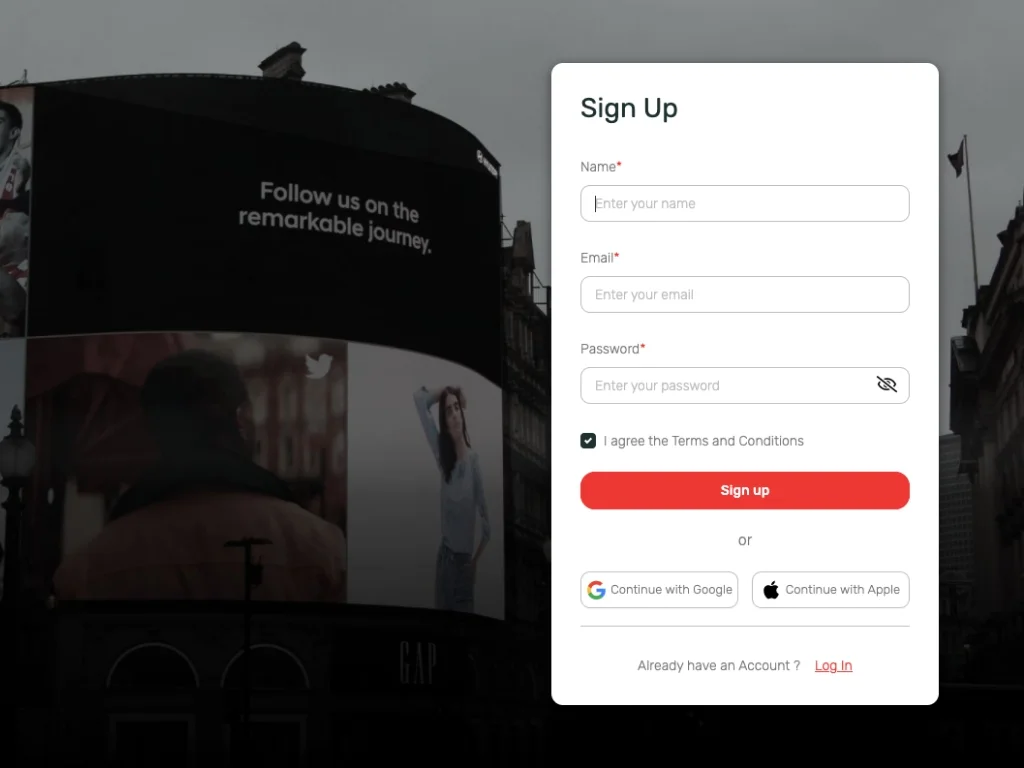 Once you have registered, you will get access to the Pickcel dashboard that looks something like this: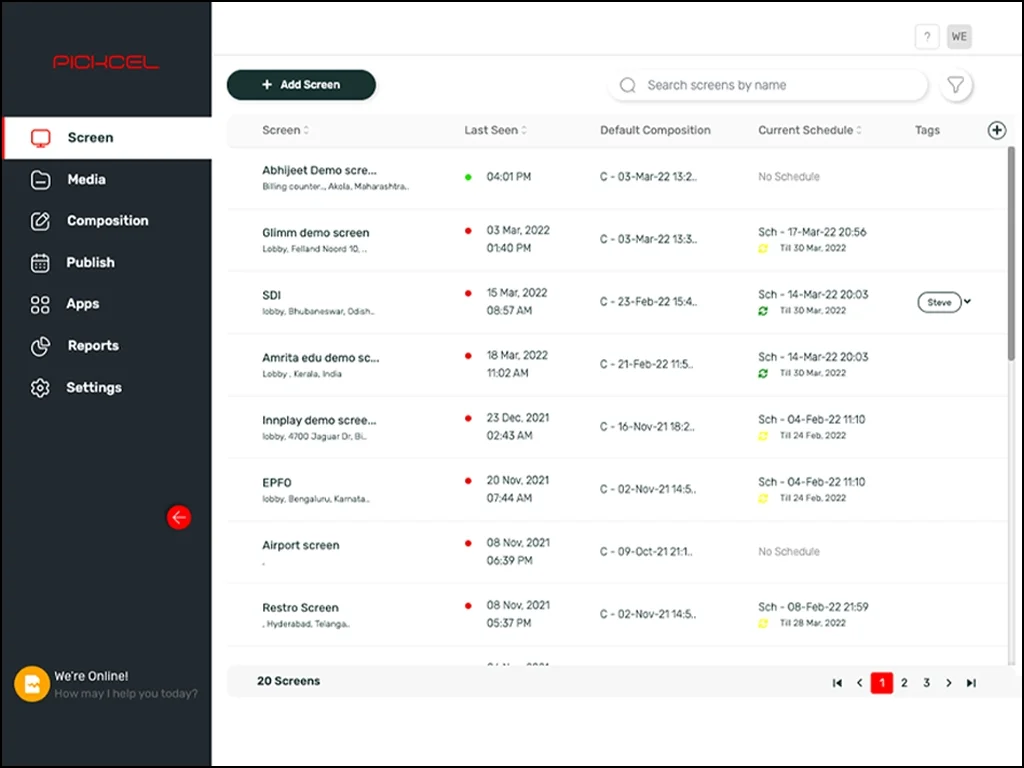 Step 2 - Go to Digital Menu Board application
The Pickcel software is essentially a digital signage software that allows users to publish any content on a digital screen. It therefore offers tons of content apps from the in-built App Store. The digital menu board app is one such application.
I. To get the menu board app, go to the 'Apps' module within the Pickcel dashboard (as marked in the image)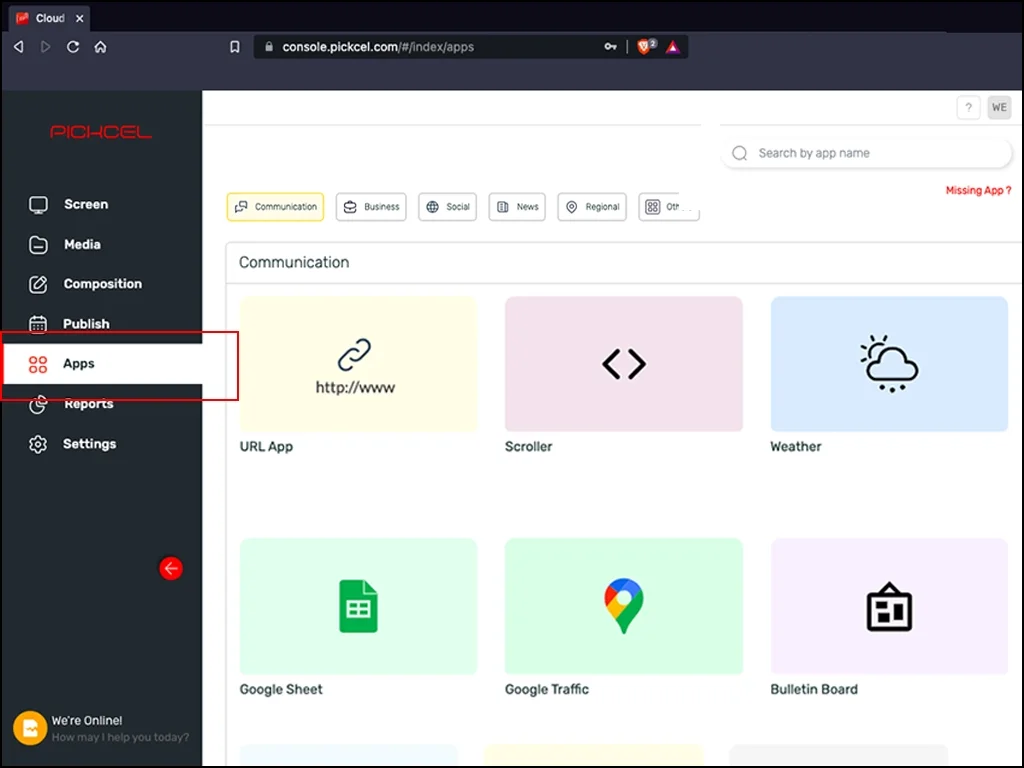 II. Search 'Digital Menu Board' on the search field.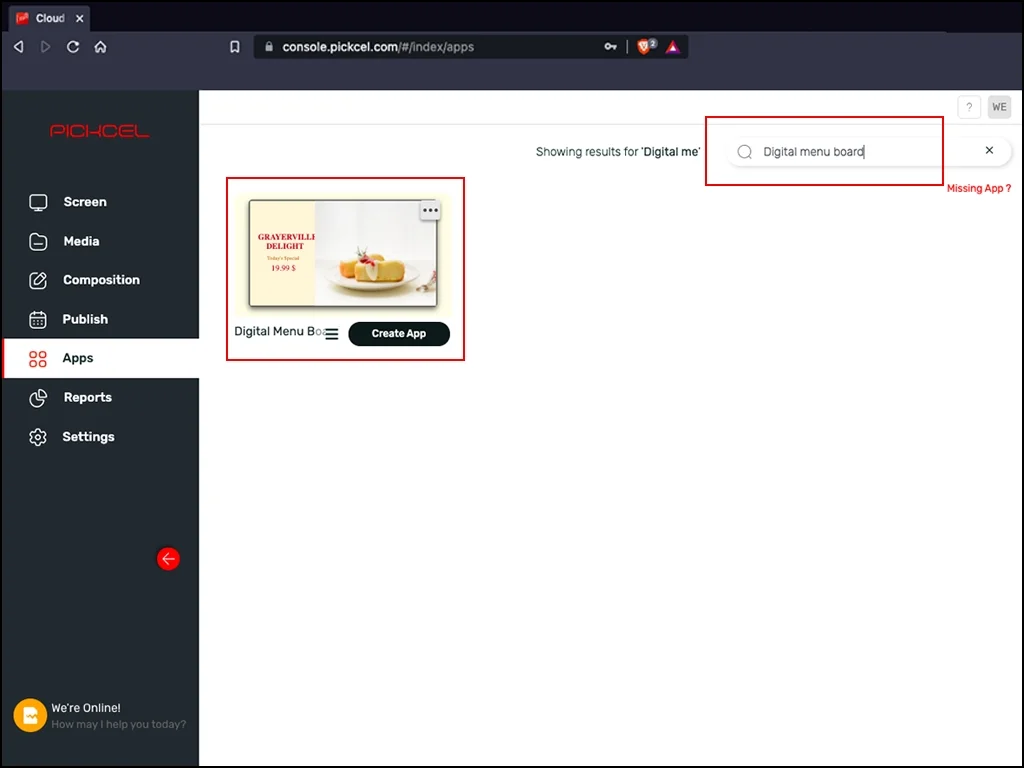 III. When you click on the app, you will get to the templates library. There are beautiful digital menu templates that you can edit as per your requirement.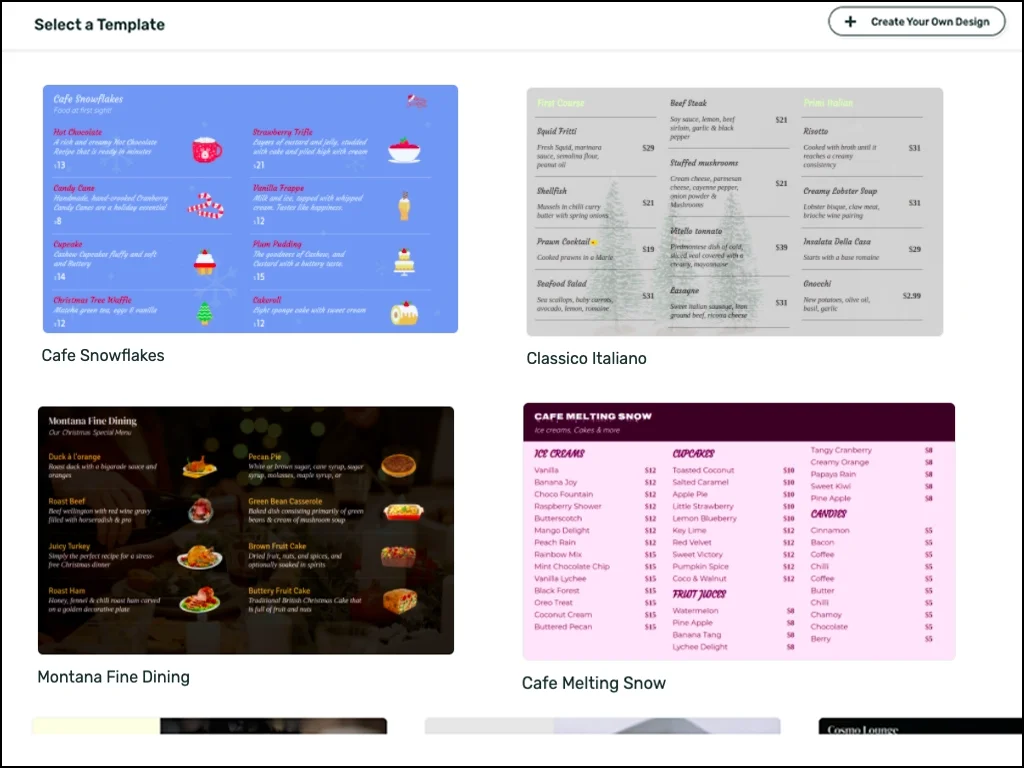 Step 3 - Edit a template as per your need
Each template can be fully edited. You can:
Change font, color of texts in the menu
Upload images of your food items and your brand logo
Add image backgrounds in the menu
Show special offers in half-screen space (alongside the menu)
Create custom menu categories like Burgers, Sandwiches, Soups, Drinks
Add a short description of your menu items
Select any currency to show the pricing
Add tags like 'Spicy,' 'Vegan,' 'Gluten-free' to each item
Label sold out items with 'Sold Out' tags, & much more.
If you don't want to use the pre-baked templates, you can create your digital menu design right from scratch.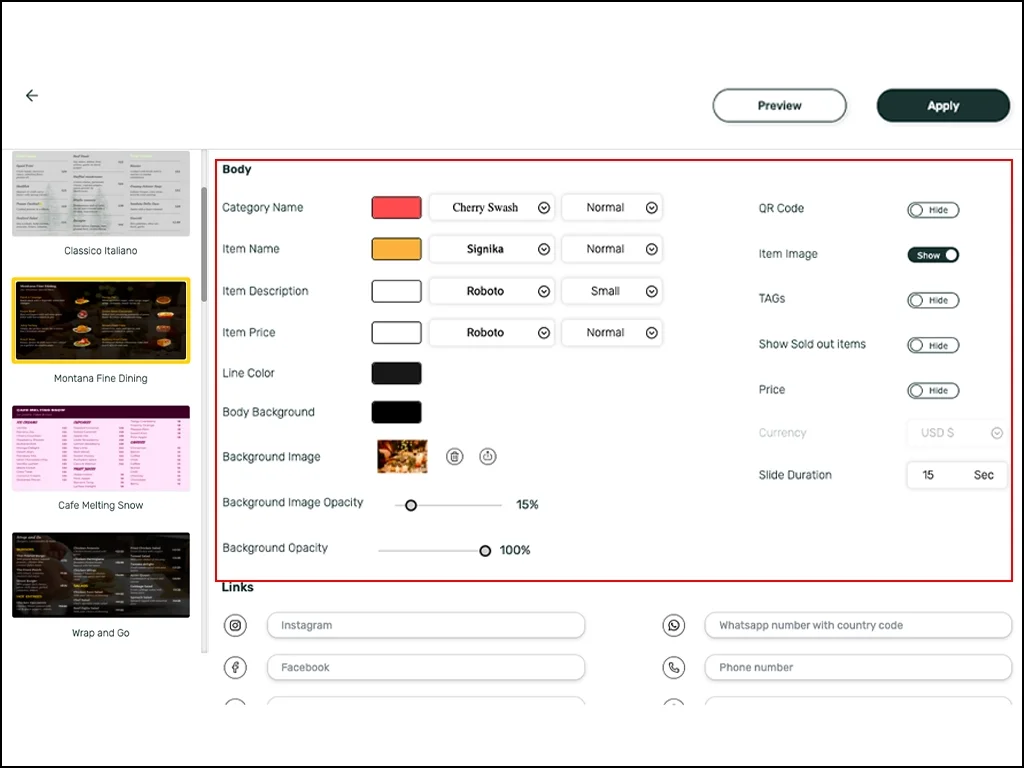 Step 4 - Adding a QR code to the menu
Once you save your digital menu design, you can click on the QR code option to generate a QR code unique to this new menu.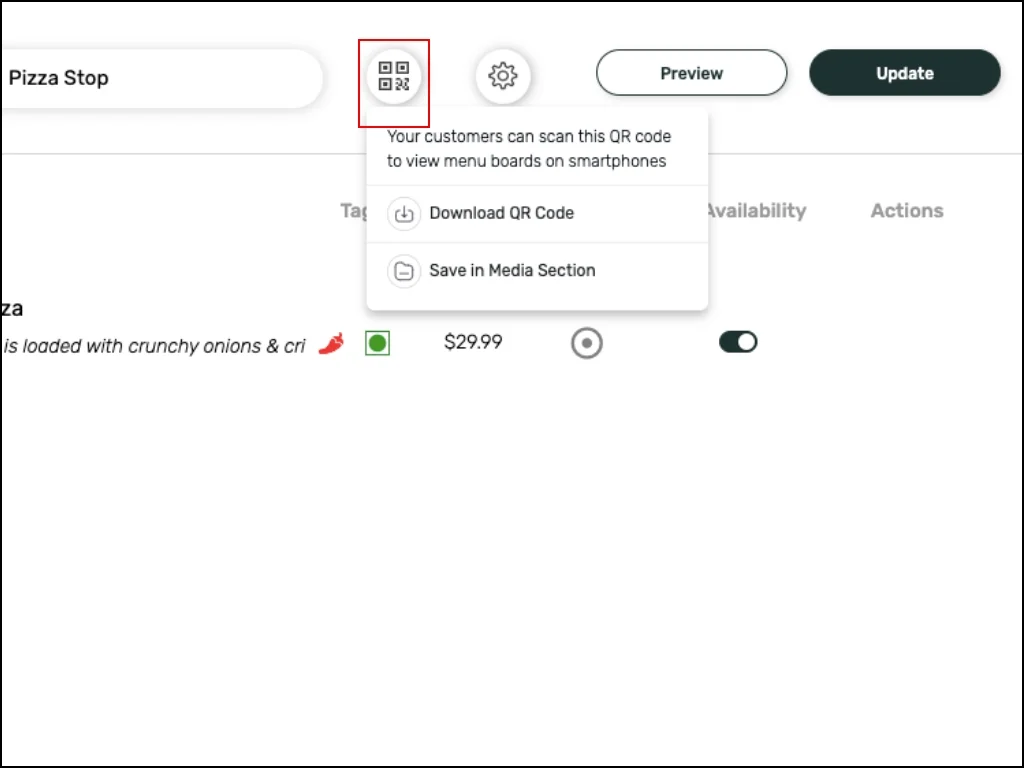 There are two ways to make your QR code menu:
Download QR code: This option lets you download the QR code and print it. You can print the QR code and place it on each table so that customers can easily scan the code and order from your menu in a completely contactless process.
Save in media section: When you click on this option, the QR code gets saved into the Media module within the Pickcel app. You can add the QR code when you publish your menu on the restaurant signage screens.
Step 5: Link other brand details to the QR code menu
When customers access your restaurant's QR code menu on their mobile devices, a few other avenues open to make them interact with your brand.
The Pickcel app lets you add the links to your Snapchat, Facebook, Instagram profiles, your restaurant's WhatsApp number, phone number and your restaurant's website link on your digital menu. These will appear as Quick link icons at the bottom of users' screens when they scan the QR code and view your menu on their mobile.
These options allow your customers to order food through Whatsapp, call you for enquiries and follow you on social media while they browse your QR code menus online.
Step 6: Publish your QR code menu on digital screens
Once you have created your QR code menu, you can immediately publish it on your restaurant signage. You can always 'Preview' your QR code menu before taking it to your screens.
But before all that, make sure to register your screens with the Pickcel dashboard.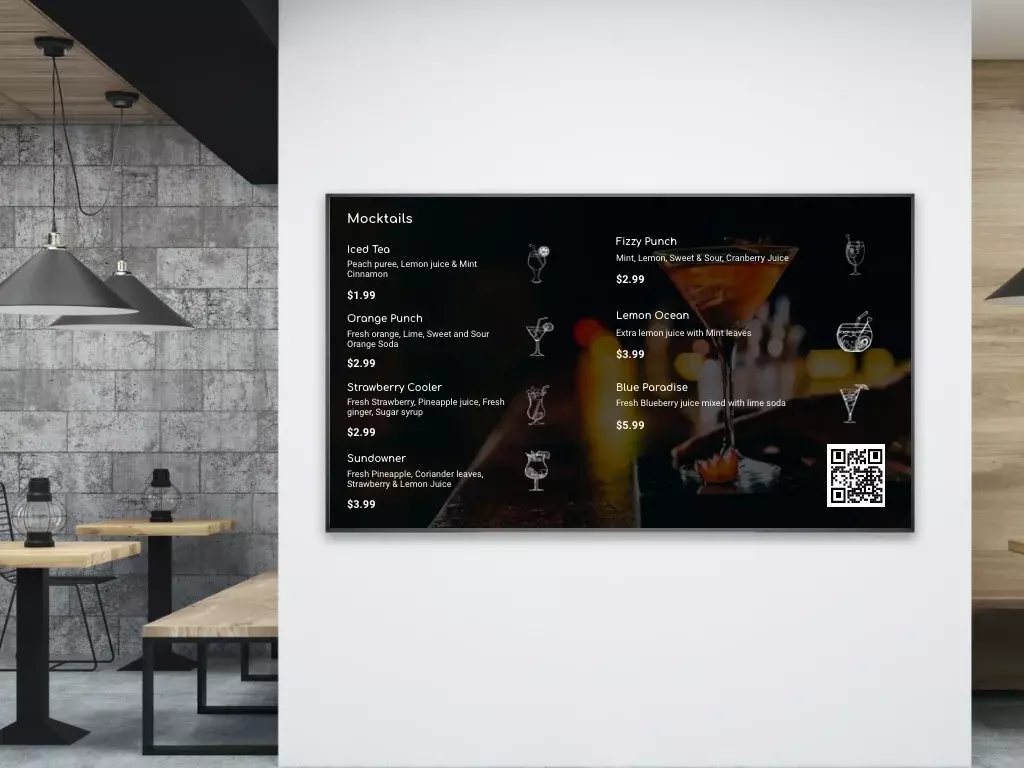 How to make a QR code menu without the Pickcel app?
Make your menu available on your website.
Don't forget to revise the price and availability of all the items every now and then.
Find out if the format of that menu is compatible on mobile devices. Each mobile device has its own specific requirements.
Make sure the menu on the website is mobile-friendly and easy to view.
Opt for free online QR code generators (you may need to try them out to understand how those applications work).
Adjust the pattern and colour of your QR code if the online tool permits that.
Why choose the Pickcel app to make QR code menus?
The biggest question is why go with Pickcel if we already have free online QR code generators? We can make the QR codes and display them on our screens or print and keep them wherever convenient. So, why Pickcel?
Let's understand.
Pickcel is a one-stop solution for your digital signage requirements. Not only can you create QR code menus in a moment's time, you can also create promotional posters, play advertisement videos, live videos, engage your customers with high-quality audio-visuals while they wait for their orders. The Pickcel digital signage software is loaded with 60+ content apps besides the QR code-enabled Digital Menu Board app. One such app is the Pickcel queue management app that restaurants use to display live order status on digital signage.
With Pickcel, restaurants can also integrate the software with their internal systems like billing systems or ordering systems to offer a more seamless customer experience.
Pickcel comes with a mobile app that gives you full freedom of usage. You can change your menu or alter the designs while on the move.
The overall advantage of using Pickcel to make QR code menus for your restaurant is that you can reduce your efforts manifold and get more return on investment.
Drive more sales at your restaurant with Pickcel!