The Pickcel digital signage software is hardware-agnostic. It is compatible with most of the popular digital signage players and player OS. You can find the complete list of Pickcel-supported hardware on this page.
Supported Digital Display Players
Not sure what media player to use for your digital signage?
Compare Pickcel features on all our supported signage players.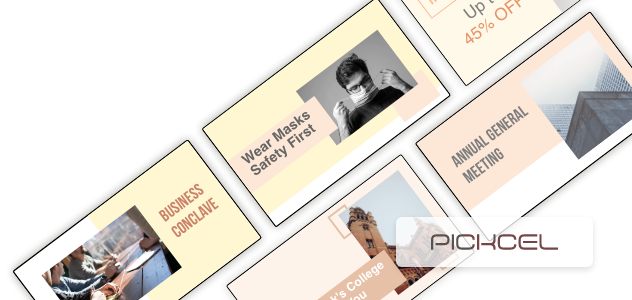 What Basic Features to Look For in a Digital Signage Player?
Supports Different Content Formats
Choose a digital signage player that supports a variety of media formats like different image & video formats, web contents like html, urls, diverse text & text tickers, etc.
Screen Resolution
A 4K resolution screen will support 4K contents and anything lower than that. A full HD screen will not support 4K. So make sure to check the highest resolution that your screen can support.
Player Security
Robust security provisions protect your system from undesirable usage and malware attacks.
Offline Rendering of Contents
A good digital signage player should offer offline streaming of contents as well. It must have a local capacity for downloading and storing data so that it can run compositions even in the absence of the internet.
Ease of Maintenance
The best digital signage players are easy to operate without requirement of much technical know-how. They are also easy to set up.
Rugged & Durable Hardware:
Your signage player must be resistant to damage by environmental factors like rain, very high, or very low temperatures, long running hours, and so on.
Connect with Pickcel to Get the Perfect Digital Signage Player!
Frequently asked question
A digital signage player is a device that lets you connect the content to your monitor, TV, or other display devices. You must choose the best digital signage player for your business that can work efficiently for your digital content.
You can get a digital signage player for Android and iOS devices. All you need is to choose the perfect fit. Pickcel offers you digital signage players for different operating systems including, Windows, Linux, Android, iOS, etc.
It is the most vital part of your digital signage; hence you need to make a well-informed decision. A digital signage player can be used across different media according to your preference.
A digital signage media player can process and render content to your digital signage display. It can play various types of content including images, video, animations, and graphics on the display. With a digital signage player, a user can manage the content by either on-site software or within the cloud to change the content. Android or other operating system-based digital signage players can connect to the internet and display social media feeds, web content, customer reviews, and feedback on the digital signage displays. Many digital signage players can display in 1080p HD resolution and some players can even display in 4K resolution.
As digital signages are monitored digitally, you would need a player that will power your digital content. Without a player, you won't be able to display the content. Additionally, a majority of the signage players are able to connect to the internet that will allow you to make edits on the go. You can connect your display screen with the digital signage software content management system. This way, you can easily store, manage, and publish your content.
You cannot deny the use and importance of a digital signage player when you are all set to leverage the potential of digital signage.
A digital signage player is a media player or a small computer used to show content on the digital display. It is a hardware component of the digital signage system that requires digital signage software to deploy content on the screens. The digital signage software is basically a content management software that organizes, schedules, and delivers your content to the signage players. The digital signage player controls the visual rendering of the messages and feeds and distributes them to one or more screens.
When it comes to choosing a digital signage player, one should determine their needs and purpose of communication. Most businesses choose windows or Linux-based digital signage players. These digital signages can run dozens of screens at a time and support extensible networks. PC-based digital signage players are a good option for large food chains, multi-specialty hospitals, and airports. They easily support 4K resolution, cloud-computing, and features essential for audience measurement and data tracking.
Recently, Android signage players have become a top pick for businesses who are looking for a low-cost digital signage player. These signage players are easy to use, just plug-in, install your digital signage app, and start displaying your content on the digital screens. One of the main advantages of using an Android signage player is it supports touch screen displays. Also, most of the smart TVs come with Android OS that can seamlessly integrate with your mobile phones and tablets.
Like Android, the Amazon Fire TV Stick is a powerful media player that can be plugged into the HDMI port of the digital displays. Pickcel digital signage app can be installed on Amazon Fire TV devices that are capable of streaming media in 1080p or 4K resolution. If you need a cheap digital signage player then go for the Amazon Fire TV Stick which is surprisingly powerful, easy to set-up, and displays the content of your choice within a few minutes.
Alternatively, Chrome OS devices like Chromebit or Chromebox are some of the best digital signage players that offer native support for HTML 5 media, and animations. The signage network on Chrome OS comes with ready-made functionality, regular updates, better security, and access to remote management features.
In addition to this, you can also buy a digital signage player for Mac OS, LG webOS, and Samsung Tizen. Raspberry pi is increasingly being used as a digital signage media player. Choose the right digital signage player knowing your budget, the operating system you prefer to use, and the capabilities you want out of your digital signage player.
The cost of a digital media player depends upon the quality, performance, and features. If your priority is processing power, storage, and durability, go for digital media boxes like INTEL® NUC Ubuntu OS that will cost $350 to $600 based on the hardware configuration.
The easy to use plug and play media player like Intel Sticks will cost $160 to $350 approximately. ChromeBox is a powerful mini PC that works fine as a digital signage player. The price of Chrome Box varies from $250 to $350 according to their models. Chrome bit and Amazon Fire TV Sticks are relatively cheap digital signage players available at $69 to $150. Depending on the brand, display size, and operating system, the cost of an all-in-one standalone digital signage display can vary from $350 to $900.
Typically, media players for digital signage come in boxes, plug and play sticks, and all-in-one solutions. Boxes like INTEL® NUC Ubuntu OS, and Chrome box are one of the best digital signage players for robust use. They offer high processing speed, storage, and features. Intel Stick, Chrome bit, and Amazon Fire TV are examples of plug and play sticks. Philips Android TV, Sonic Android TV, and Smart TVs with LG webOS, Samsung Tizen are all-in-one digital displays with the system on Chip or SOC.
The digital content your digital signage player plays depends on the type of content management software you use. A majority of the CMS display images and videos. You must check the software before purchasing the signage player. These are the content you can generally display through signage players:
Images
Weather
News
Videos
Websites
Social Media