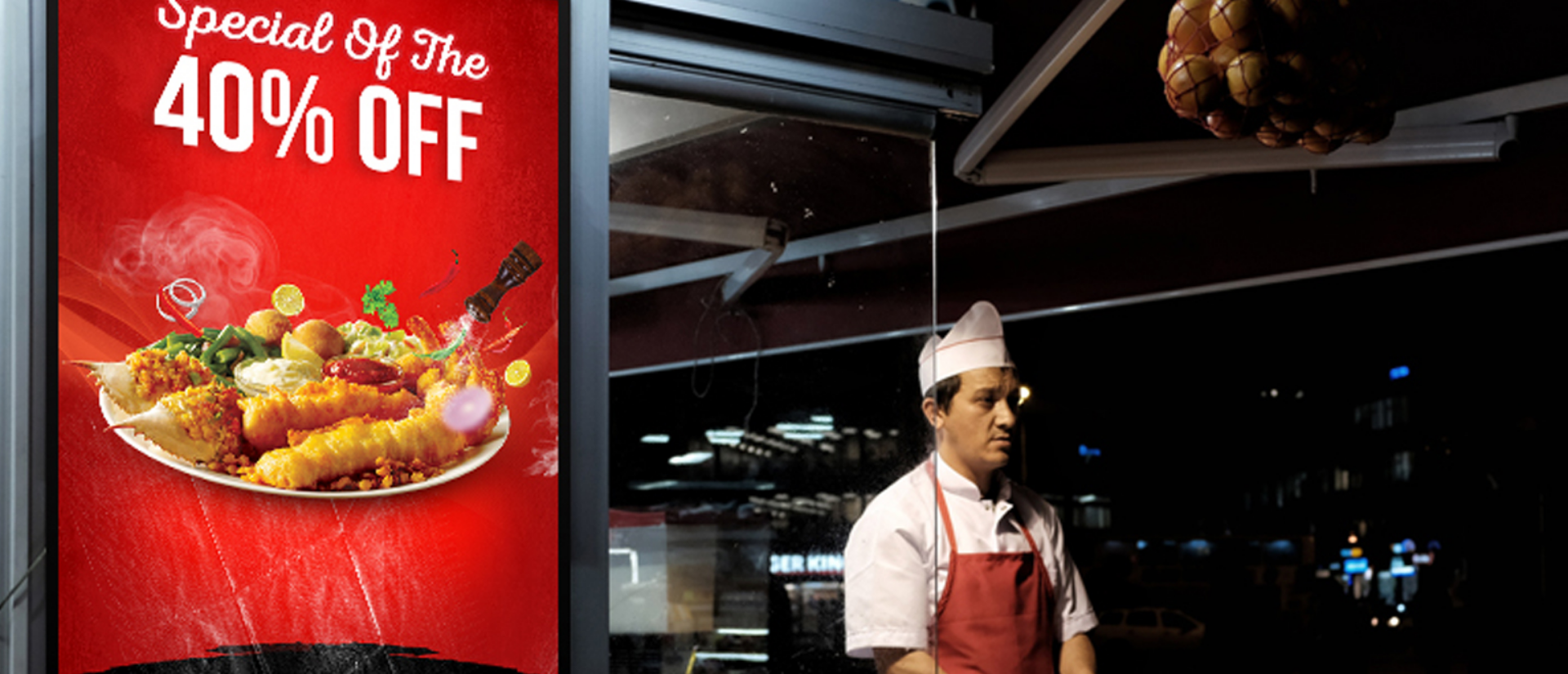 How to Create a Digital Menu Board 6 Best Free & Paid Tools
How many times have you experienced this— you walk past a quick-serve restaurant, you notice the outdoor digital menu board displaying the mouthwatering images of a burger or sushi…and now, all of a sudden, you feel HUNGRY!
Can't tell about you, but the marketing trick always works with foodies and gastronomes.
And, that is precisely why your restaurant desperately needs a digital menu board, if it already hasn't got one. Both indoor and outdoor digital menu boards act as visual magnets to draw customers towards the counter and increase sales.
Therefore, irrespective of whether you are a five-star hotel or a local cafe/QSR, it is essential for you to think through the outlook and design of your digital menu board.
Hey, but wait…what about the cost of designing a digital menu board?
Well, creating a digital menu board for a restaurant doesn't have to be expensive or even priced at all. There are many design software that allow you to download as well as edit free digital menu board templates.
In this blog, we tell you how to create a digital menu board using both free and paid software. We have listed the six best design tools that can help you create stunning and professional-looking digital menu boards for your QSR, food truck, restaurant, hotel, or school cafeteria.
Before choosing the design application, make sure that you know what file formats are supported by your digital menu board software. For example, Pickcel supports all kinds of images, video formats, and URLs.
6 Best Tools to Create Eye-Catching Digital Menu Boards Without Any Expert Guidance!
1. DS MENU - Paid Application
It is only natural that as a food business, you will be having the impeccable skills of Chef Gusteau, not Pablo Picasso. Thankfully, of late, you don't have to be an artistic genius or even hire one in order to infuse creativity into your business. Third parties like DSMenu that offer tons of customizable digital menu board templates can do the creative heavy lifting for you. You can simply select a template and edit it to add all your courses and dishes with their prices. You can also add or create your restaurant logo for branding.
It saves time: Hotels, restaurants, and cafes need to update their menu boards frequently, often more than thrice a day to display different meals. On top of that, there are special meals, festive offers, regular discounts, coupon codes, and many other changes that require constant updates. Therefore, unless you have hired a creative team to work on your food truck/QSR menu board, it is always reasonable to go for a ready-made template instead of designing one from scratch.
Exclusive for digital menu boards: DS Menu templates are tailor-made for food businesses only and it means that you will get huge collections of industry-standard designs. Moreover, the templates are well-organized under popular categories like 'Lunch', 'Breakfast', 'School Menu', 'Happy Hour', 'Bakery', 'Chalk' etc. You can also request custom designs.
Not Free: DS menu allows you to register and design your menu for free so that you can warm up to the application. However, in order to download your design, you need to be a paid subscriber.
Thankfully, we have a solution to that! Pickcel clients get a special discount on DS Menu subscription plans.
2. CANVA - Both Free and Paid Features Available
If you are on the lookout for hundreds of free templates, hands down, Canva is the ultimate option to try. It is, in fact, a one-stop solution for all kinds of creative templates, not just digital menu board templates. Even though all templates are not cost-free, it is safe to say that you'll get plenty of unpaid designs to choose from. You can hover over each template/photo/video/element to check which ones are tagged 'free'.
In Canva, you can also design your digital menu board from scratch, import graphics from your personal devices, share your designs and work as a team.
It's free…for the most part: In Canva, almost every feature has both free and paid options. You can also download your designs for free and without any watermark! as long as you don't use any paid templates, elements, videos, etc. for your design. Once you fall in love with Canva, you can become a paid subscriber to open up the full Pandora's box of amazing designs and features.
It allows video formats: You can add free stock videos to digital menu board design. You can also download them in GIF or MP4 formats besides SVG, PNG, JPEG, and PDF file formats. So, now your digital menu boards can be even more attractive. Simply create a high-quality video of some great food being prepared in your restaurant kitchen, import it to Canva, and insert that video clip in your digital menu board design! Isn't that fun?
Let's add another great news: Pickcel customers can now design and manage their digital menu boards directly through our integrated Canva design tool. Check out our step-by-step tutorial with images for more insight.
Mostly Vertical Menus: Sorry, we couldn't find any such downside for this tool. If at all something has to be pointed out, then we can only say that most of the digital menu board templates are in portrait orientation. But, you can always resize! The standard landscape aspect ratio is 16:9.
3. EASIL - Both Free and Paid Features Available
Easil is another user-friendly graphic design software where you can create beautiful content for your digital menu boards. It offers three tiers of pricing plans. The 'Basic' plan is free and is packed with useful features. The digital menu board template designs are surely a breath of fresh air, especially if you have a weakness for pastel shades and minimalist designs! If you need horizontal menus, you may be a little disappointed at first glance, as Easil mostly offers vertical menu board templates. But, don't worry, we'll let you in on a secret that will solve your problem: all you have to do is copy and resize the vertical template into the 'Digital Screen' (1920px X 1080 px) size. It's that simple!
Custom dimension for digital screens: Digital menu boards are generally displayed on large digital signage screens. For a layman, understanding the technical nitty-gritty of graphic design like size, resolution, and aspect ratios can be a genuine struggle. At the same time, not having the correct understanding of these dimensions can lead you to create a design that will ultimately appear blurry or pixelated on your digital signage displays. Easil completely obsoletes this hassle by providing a standard 'digital screen' dimension.
Doesn't support video: As of yet, Easil doesn't allow you to insert video content in your designs. You can download your content as JPG, PNG, PDF and GIF files only; not as MP4.
4. APPLE KEYNOTE - Free for Apple Users
Apple Keynote is another presentation tool that can be used to design beautiful dynamic and static digital menu boards for your restaurant/QSR. You will get plenty of gorgeous templates, to begin with. Apple Keynote comes pre-installed with Apple devices and can also be downloaded for free from the Mac App Store.
Loaded with useful features: The Apple keynote offers atypical animations, slide transitions, real-time collaboration, and also many unique features like turning handwriting into text Tip: if you are a hip and urban restaurant/QSR with plenty of millennial customers, you can use this feature to give your digital menu board a cool and funky organic look!.
Downloadable as Video file: You can export your digital menu board designs as MP4 or animated GIFs.
The time factor: With more features, you need more time to figure them out. Besides, with Apple, you might be surprised at the number of new features getting introduced every now and then! So, for creating a digital menu board in Keynote, you might need to sit down with a cup of coffee, watch some tutorials before you can create a 'wow' design for the digital menu board. All we are saying is, we hope you are not in a hurry.
5. GOOGLE SLIDE - Free
If you want to design your digital menu board right from scratch, then Google slides can be your favorite application. It allows a much greater scope of collaboration. You can share your slides with others and can group edit your digital menu board designs in real-time. Also, you can import any existing designs in PowerPoint and convert them into Google slides. If you want to get started with templates, that is also available. However, do not expect to find the kind of huge repository of templates that you will find in the applications like Canva or DS menu, or Easil.
Free: There is no subscription fee at all. Everything is free up to a limit. Supports screencast: Digital menu board designs made in Google slides can be wirelessly cast on your digital displays directly from your android devices like smartphone, tablet, smartwatch, etc. using Chromecast, Hangouts, and AirPlay. You can get the tutorials here.
Comparatively Less Time-Efficient: Designing something from scratch comes with its own set of comfort and discomfort. While you may enjoy the satisfaction of creating something all by yourself, you will also need to put a little more effort and time which often businesses find scanty.
6. MICROSOFT POWERPOINT - Only Web Version is Free
It is the most basic application that everyone has on their PCs. The working principle of PowerPoint is more or less similar to Google slides. Before designing your digital menu board in PPT, do make sure to resize the slides in the standard 16:9 ratio if you plan to show your contents on widescreen. The default aspect ratio of a PPT slide is 4:3. You can change the aspect ratio of your slides from the 'Page Set-up' option under the 'Design' tab of the toolbar.
Requires Bare Minimum Expertise: PPT is no ultra-modern application. It is simple and most importantly, user-friendly.
A Little Time-Consuming: Same as with Google Slides; you will not get any such pre-baked designs for your digital menu board. Therefore, it is not a very time-efficient choice.
And Finally…Some Design Tips to Make Your Digital Menu Boards Look Oh-so Gorgeous!
Once you have learned how to create a digital menu board, it is time for you to move on to the next level: how to create a digital menu board that sells your products and communicates with your customers at the same time.
Here are some of the most important tips that you need to remember while designing your digital menu board:
Add relevant images: Nothing cries 'amateur' more than an erratic and unrelated image/graphic in your digital menu board design. Imagine the disappointment of the customers when they walk into your restaurant hoping to get that delicious burrito displayed on your digital menu board but realize that it was just a decorative image and that you don't actually sell one! You wouldn't want to set a wrong impression, do you?

Less is More: While designing your digital menu board, make sure that you do not crowd it with lots of graphics, font styles, and effects. Your customers will feel lost if you do that, and it might also make your menu look desperate for attention. Keeping it simple always works well.

Set Yourself Apart: How do your competitors design their digital menu boards? And, what can you do to make yours a little different from the rest? If your competitors are using colorful images, then maybe you can go for the cool 'chalkboard' look. If others are using images, then you can add GIF or video elements to make your digital menu board even more dynamic and interactive. Or perhaps, add a digital discount coupon to create urgency. Use your imagination to set yourself apart.
The bottom line is, creating digital signage for your restaurant, QSR, cafes, or hotels does not have to be an ordeal. It doesn't have to be expensive either. You don't even need to hire a designer for the job. In today's world of automation, designing your digital menu board is an absolute breeze.
Furthermore, digital menu board software providers like Pickcel serve you with a whole platter of information, guidelines, ideas, and FAQs so that you don't have to spend that extra buck on third parties for consultation.